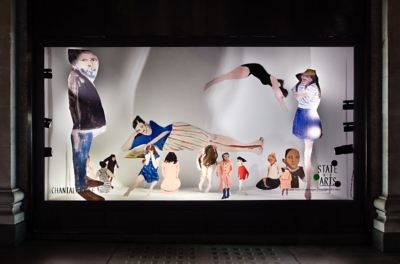 Painting with an expressive style, the internationally renowned artist brings a unique and contemporary approach to portraiture. Joffe's piece for Whitechapel station, 'A Sunday Afternoon in Whitechapel', features two-metre-tall cut-out portraits inspired by the cosmopolitan streets around the station.
"I wanted the art in it to link the underground with the above ground and the sense of Whitechapel as a bustling inner-city place. It was really important that you feel that aliveness." Chantal Joffe
For her Selfridges installation, Chantal expands on her Whitechapel work, with cut-outs depicting her family and friends, as well as historical residents of the East End. The striking work encourages people to forge a personal connection with the individuals pictured - in much the same way that we might weave stories about fellow passers-by.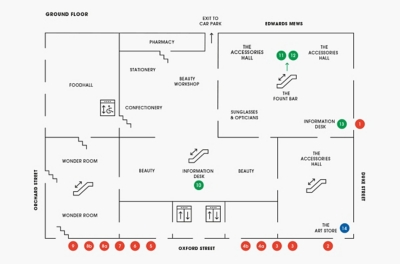 1 - Yayoi Kusama
2 - Spencer Finch
3 - Richard Wright
4a - Douglas Gordon
4b - Douglas Gordon
5 - Simon Pertion
6 - Chantal Joffe
7 - Michal Rovner
8a - Darren Almond
8b - Darren Almond
9 - Conrad Shawcross
10 - Eduardo Paolozzi
11 - Matthew Darbyshire
12 - Rebecca Ackroyd
13 - Art Block
14 - The Art Store