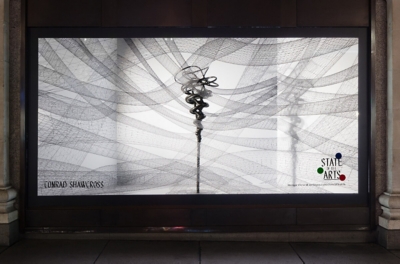 The next piece is located at the Information Desk on the ground floor - please see the map below for details.
Complex ideas from science, mathematics, philosophy and history are all integral to the British artist's sculptures, which are often epic in scale ('Paradigm' 2016 is currently one of the tallest public sculptures in Central London). His eight-metre-high bronze installation, 'Manifold (Major Third) 5:4', for the new Western ticket hall at Liverpool Street station, draws on the artist's interest in harmonics and the mathematics of music.
"It is a picture of a chord falling into silence. It begins its life as this feverish spinning whirlwind and when it gets slower, it gets fatter as the energy in the system dissipates down into the stem which peacefully goes into the ground." Conrad Shawcross
Echoing his installation for Liverpool Street station, Conrad Shawcross' bronze sculpture, 'Harmonic Manifold 1 (5:4)', for Selfridges is also a visual representation of 'major third'. Using this specific ratio between two notes, the piece describes a journey through space as the chord recedes into silence.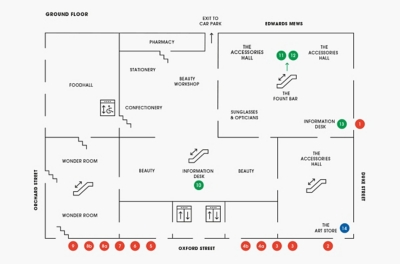 1 - Yayoi Kusama
2 - Spencer Finch
3 - Richard Wright
4a - Douglas Gordon
4b - Douglas Gordon
5 - Simon Pertion
6 - Chantal Joffe
7 - Michal Rovner
8a - Darren Almond
8b - Darren Almond
9 - Conrad Shawcross
10 - Eduardo Paolozzi
11 - Matthew Darbyshire
12 - Rebecca Ackroyd
13 - Art Block
14 - The Art Store