Spencer Finch is known for making sculptural installations that visualise his experience of natural phenomena. His investigations into the nature of light, colour, memory and perception manifest in watercolours, drawings, video and photographs. As part of the Crossrail project, Finch has created 'A Cloud Index' – an artificial cloudscape in the roof canopy of Paddington station.
"The artwork will exist as an artificial cloudscape and as an homage to the British obsession with categorising and systemising the most fugitive of natural phenomena..." Spencer Finch
Finch's Selfridges windows installation – in which a big sphere slowly gets obscured by fog, which then fades away and repeats – was inspired by a quote from Oscar Wilde's 'The Decay of Lying' (published in 1891). "...people see fogs, not because there are fogs, but because poets and painters have taught them the mysterious loveliness of such effects…"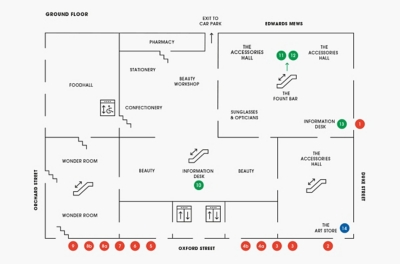 1 - Yayoi Kusama
2 - Spencer Finch
3 - Richard Wright
4a - Douglas Gordon
4b - Douglas Gordon
5 - Simon Pertion
6 - Chantal Joffe
7 - Michal Rovner
8a - Darren Almond
8b - Darren Almond
9 - Conrad Shawcross
10 - Eduardo Paolozzi
11 - Matthew Darbyshire
12 - Rebecca Ackroyd
13 - Art Block
14 - The Art Store