Selfridges Loves: London Fashion Week Men's
SELFRIDGES LOVES:
LONDON FASHION WEEK MEN'S
"When it comes to show season, I'm looking for what is new and exciting - new trends are now developed through key pieces."
Bosse Myhr, director of Menswear
The show tickets have arrived, the umbrellas are at the ready and a small corner of London is about to be taken over by the best-dressed gents in Europe and beyond - yes, London Fashion Week Men's is back in town. Luckily, our buyers are ready with their insider knowledge of where to go, what shows to see (including some highlights here at Selfridges) and, most importantly, the key pieces to wear - whichever style tribe you belong to.
"When it comes to show season, I'm looking for what is new and exciting - new trends are now developed through key pieces."
Bosse Myhr, director of Menswear
Our buyers are ready with their insider knowledge on where to go, what shows to see and the key pieces to wear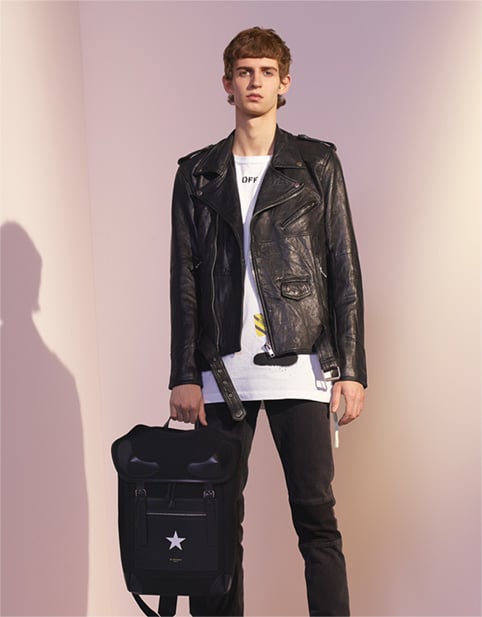 ///
The Streetwear Hero
"The link between music and fashion is stronger than ever, with the creativity of each continually fuelling the other. The most powerful trendsetters are without a doubt the artists from America who are taking risks and really having fun with their style. They are definitely shaping men's attitudes towards fashion and personal style."
Jack Cassidy, buyer - Designer & Contemporary
His jeans come from the most exciting new denim labels (Represent and Deadwood being our top choices), the leather jacket he slings over his tee is - of course - made in Sweden from upcycled leather, and he's the barometer for what many of us will be wearing a few months from now. (Let's just say, we've only seen the tip of the iceberg when it comes to tour merchandise-influenced hoodies and tees.) The key to this look is pairing monochrome basics with bold graphic prints from the likes of Off-White. Add to that accessories from big hitters like Gucci and Givenchy and the look is yours.
Often found: cruising past the line of admirers queuing up to ogle his limited edition trainers.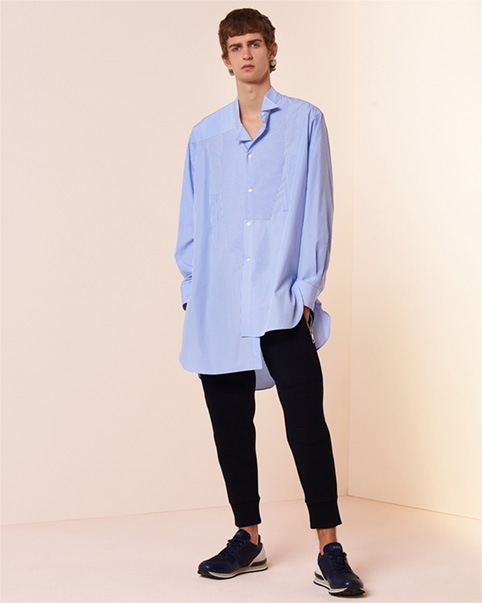 ///
The Fashion Peacock
"Fashion needs its real creative renegades to move forward - the guys who take on even the strongest runway looks and make them their own. It's what fashion should be: inspirational and fun."
Bosse Myhr, director of Menswear
Feel free to stare - the fashion peacock is there to be admired. From bold prints to avant-garde cuts, this guy isn't scared of taking risks. Case in point: this asymmetric, longline cut shirt from Loewe, which transforms the classic business shirt into something that feels so fresh and new. Add ultra-skinny joggers and statement trainers, and it's clear this daring dresser isn't afraid to challenge traditional ideas of menswear. For the more cautious among us, take a more subdued slice of this guy's style by selecting one bold printed piece that you can pair with plainer basics.
Often found: getting street-style snapped.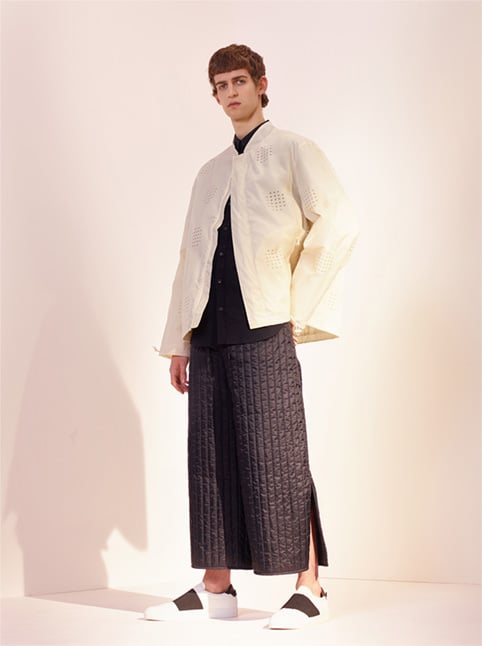 ///
The Front-Row Veteran
"For me, the best-dressed guys are always those who have a look that they can call their own. No gimmicks, just carefully selected pieces worn with confidence."
Bosse Myhr, director of Menswear
Ever so slightly dazed by seasons of capricious trends, the front-row veteran knows that interesting cuts, great textures and subtle detailing never go out of style. The likes of Craig Green and Rick Owens are his go-to brands for silhouette-distorting trousers and his Givenchy trainers hit the minimal-cool mark with ease. As he takes his runway seat, fashion editors quietly acknowledge their appreciation of his signature look. Yes, it takes years to look this good… or perhaps just a click below.
Often found: juggling fashion show invites.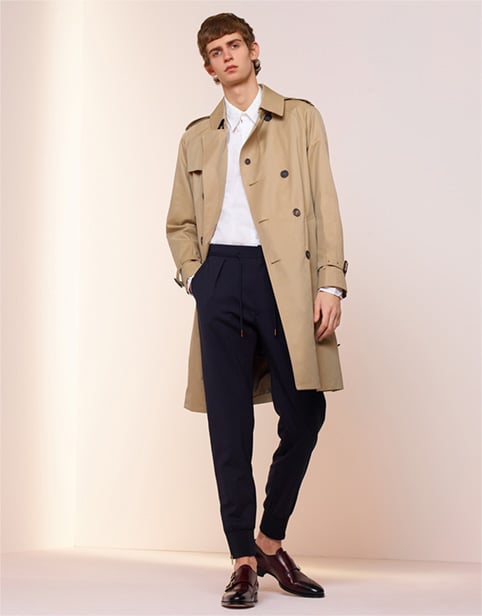 ///
The London Native
"There's a lot of talk in the industry around the need to sustain the traditional skills and factories that make for the best British textiles. And you can see it in a new crop of brands, all with amazing stories behind them."
Richard Jones, buying manager - Mens Accessories & Technology
Armed with a weather-ready jacket and a knowledge of London to rival Citymapper, the London native knows the score when it comes to Fashion Week Men's. At the international stage for the best British menswear, this guy takes the opportunity to fly the flag for fashion made on home soil. Our top Brit picks? A classic Mackintosh coat, smart yet unstuffy tailored joggers from Paul Smith and David Beckham's collection of reworked traditional sportswear for Kent & Curwen, arriving at Selfridges soon.
Often found: giving tips on London's best craft beer.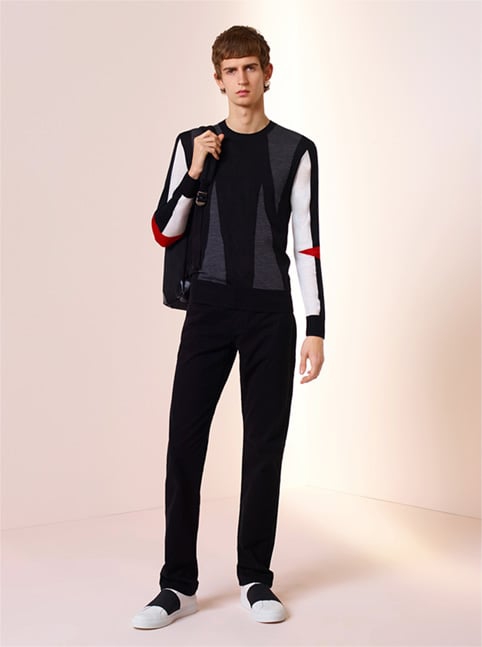 ///
The International Style Scout
"Travelling is one of the best things about the job, but jumping between cities can be tricky. I always pack lots of layers that work well together, which I can switch around so those early starts don't begin with an outfit challenge. Other essentials? Coffee. Lots of it."
Alex McCart, buyer - Mens Formal
So what's in the style scout's suitcase? Laidback yet on-point basics: sharply cut jeans to take him from runway show to airport lounge, a smart yet sizeable backpack and - of course - a phone and leather-bound notebook for capturing the latest fashion stories. Neil Barrett's geometric jumpers are perfect for layering over a shirt or tee while a pair of crisp white trainers keeps him looking slick, whichever city's streets he happens to be treading.
Often found: drinking his sixth flat white to combat the jet lag.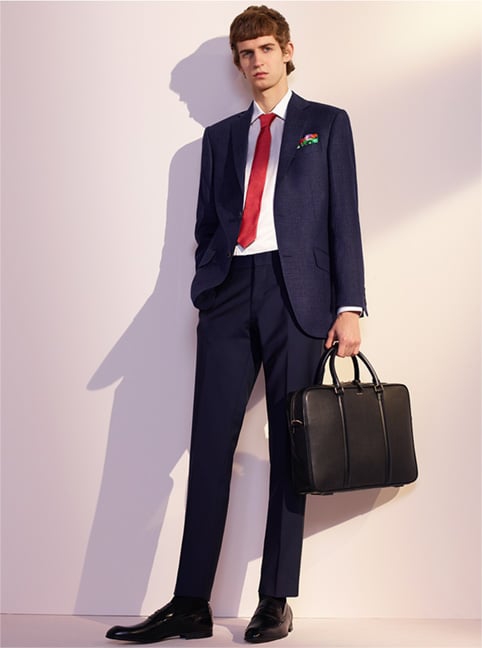 ///
The Man About Town
"This guy knows that the devil's in the details: a smart bag, statement tailoring and always amazing shoes. No one does it quite like the Brits (and that's coming from an American!)."
Luke Mountain, buying manager - Mens Formal
The man about town nails the characterful yet formal look without getting into the clichéd 'statement sock' territory by pairing the very best tailoring with distinctive touches. Think Fifties-inspired sunglasses (who cares if it's cloudy?) and a colourful pocket square, such as the one by Paul Smith worn here, featuring a painting of an iconic London Routemaster bus, no less. Smart needn't mean stuffy, after all.
Often found: comparing tie pins.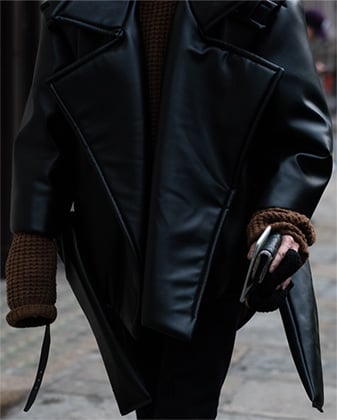 ///
The Demise Of The Caped Crusader
"I have to admit: my pet peeve come the shows is the coat-worn-as-a-cape thing. Is it that hard to put your arms into the sleeves?"
Luke Mountain, buying manager - Mens Formal
Yes, our buyers have spoken. The way to really wrap up for the start of 2017? Oversized coats and hoodies that don't just cover your arms but your hands too. Good luck getting your iPhone out of your pocket...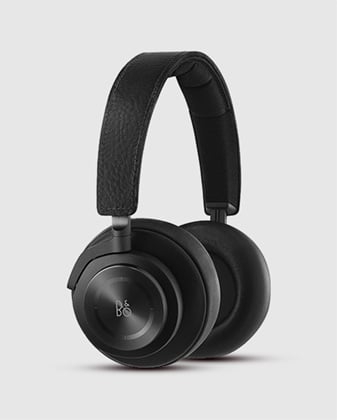 ///
What's On Our Headphones
"In-between shows I am always frenetically emailing and catching up on work. But if I have time to listen to music in the back of a taxi, I will definitely be playing 'A Seat at the Table' by Solange Knowles or Nadia Rose's 'Tight Up' on repeat."
Jack Cassidy, buyer - Designer & Contemporary
And the most stylish headphones to listen to it on? We say, a pair of Bang & Olufsens.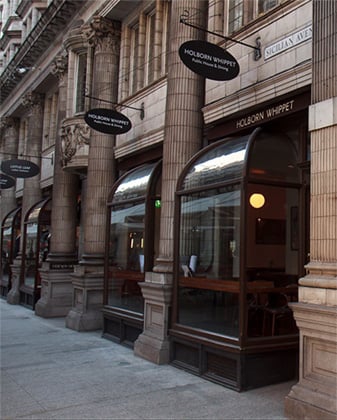 ///
Thirsty Work
"As much as we love breakfast at The Wolseley and lunch at Chiltern Firehouse, you just can't beat a traditional pub at the end of a busy day. Supping a pint at The Holborn Whippet (just a stone's throw away from the shows on The Strand) is a welcome dose of real London life - before heading to an extravagant post-show party, of course."
Alex McCart, buyer - Mens Formal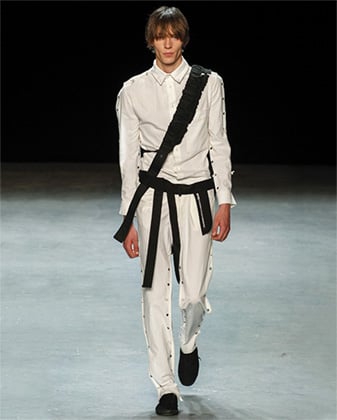 ///
Fashion Week Men's At Selfridges
This year we will be hosting MAN (the joint initiative between Topman and Fashion East to champion emerging menswear talent) in The Old Selfridges Hotel, located at the back of our London store. Shows include Topman Design, Craig Green, Astrid Andersen, Christopher Shannon and Fashion East. Selfridges will also be the only place to buy Bobby Abley's limited edition Power Ranger collection straight from the runway on 6 January. It's morphin' time!

Go Back Stage With Us
Follow us on Facebook and Instagram this London Fashion Week Men's as our buyers give you their insiders' view of the shows. Plus, head to Facebook on Friday 6 January at 8.30pm for an exclusive live-streamed conversation about the importance of nurturing design talent with leading names in fashion (including one of our very own buyers!)