Selfridges Loves: so-now street style
SELFRIDGES LOVES:
SO-NOW STREET STYLE
It's March, which means you've survived winter (congratulations!) and spring has officially sprung. While the current catwalk shows are looking ahead to autumn/winter 2017, you only need to turn to the stylish show-goers for clues on how to dress right now. From the colour of the moment to the latest buzz-worthy bag, we bring you our top 10 street-style highlights from the fashion week circuit so far.
From the colour du jour to the latest buzz-worthy bag, we've rounded up our top 10 street-style highlights from the fashion week circuit so far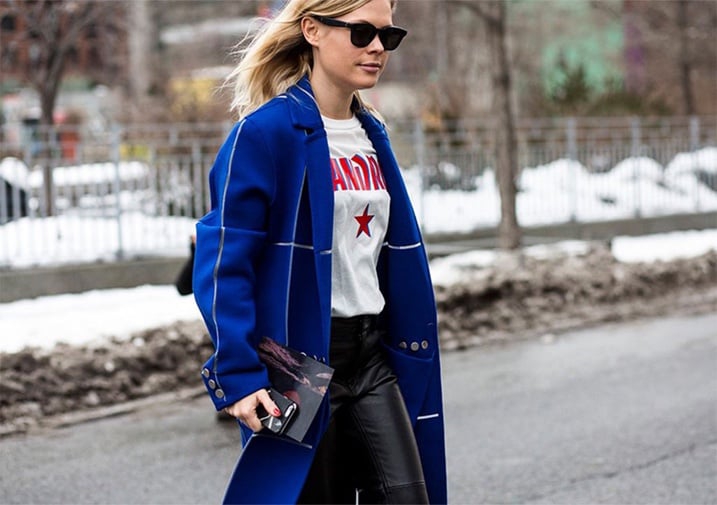 ///
Word up
From logo tees to slogan sweats, there's never been a better time to show off your brand allegiance, as proven by that Gucci T-shirt that you can't have possibly missed on Instagram. We love this bold Sandro tee, paired with leather trousers and shades for instant effortless-with-an-edge style.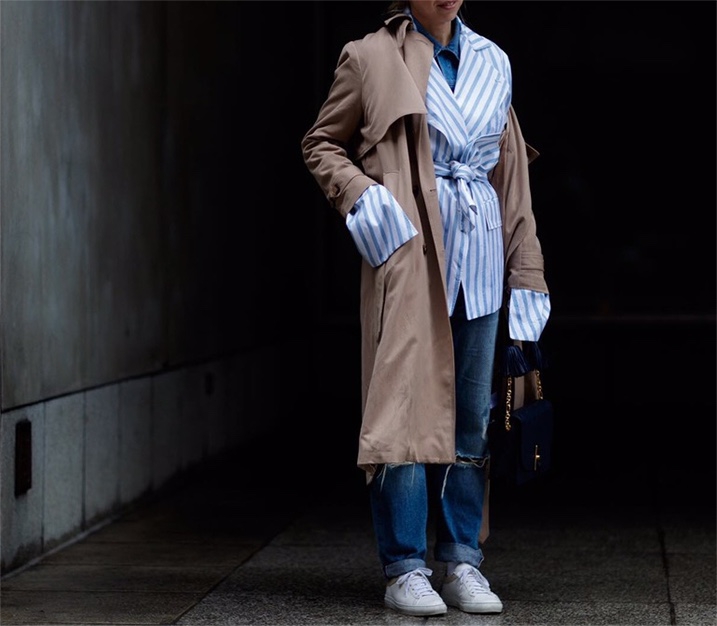 ///
Statement shirts
We adore shirts all year round, but during spring's unpredictable weather we find ourselves reaching for them the most. This season, shirts have been promoted from faithful support act to star of the show, as oversized cuffs, asymmetric silhouettes and standout prints take centre stage. Wear yours askew, hanging off one shoulder or even layered over another shirt like our street-style star; it's time to get creative.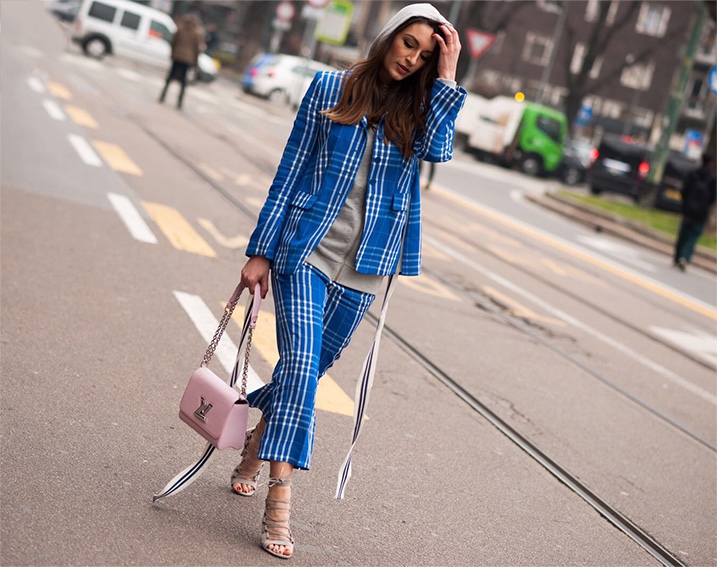 ///
Smart sweats
Layering is key when it comes to spring dressing, and this season's layer of choice? The hoodie. The 90s favourite has cropped up all over the streets of fashion week, but think 'less slobbing out, more going out', as show-goers wore theirs with relaxed tailoring and underneath oversized trench coats. First, sports trainers made their way into our workday wardrobes - could it be happening with the hoodie, too?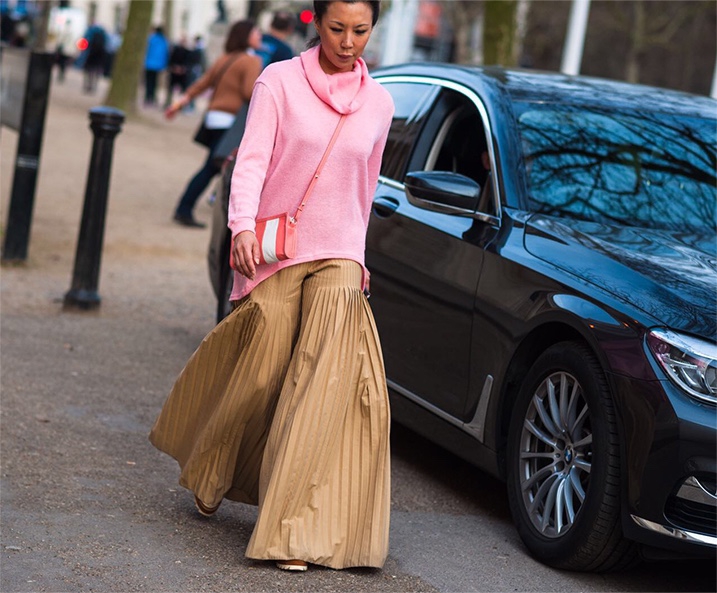 ///
Think pink
It may be the colour of candy floss and Barbie's favourite hue, but pink is also turning out to be the fashion set's shade of choice this season. And the good news is, there are plenty of ways to wear it. If head-to-toe coral isn't your thing (too Jackie O?), take your cue from our womenswear buying manager, Jeannie Lee (pictured), and tone down saccharine shades with a soft camel, neutral navy or khaki.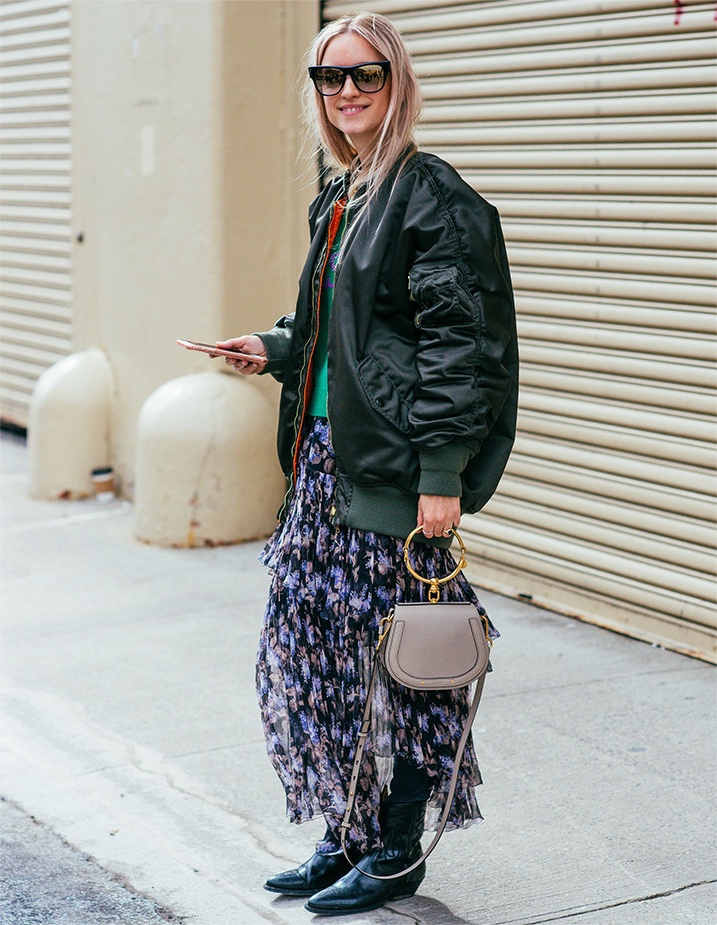 ///
Floral frocks
Floral dresses…for spring? OK, no surprises there, but this season the wardrobe stalwart has had a restyle as girly goes grunge. Seen on the streets of New York and London, full-skirted silhouettes have been ditched in favour of frothy chiffon and fluid silk styles, worn with heavy-duty utility boots and androgynous outerwear. We love!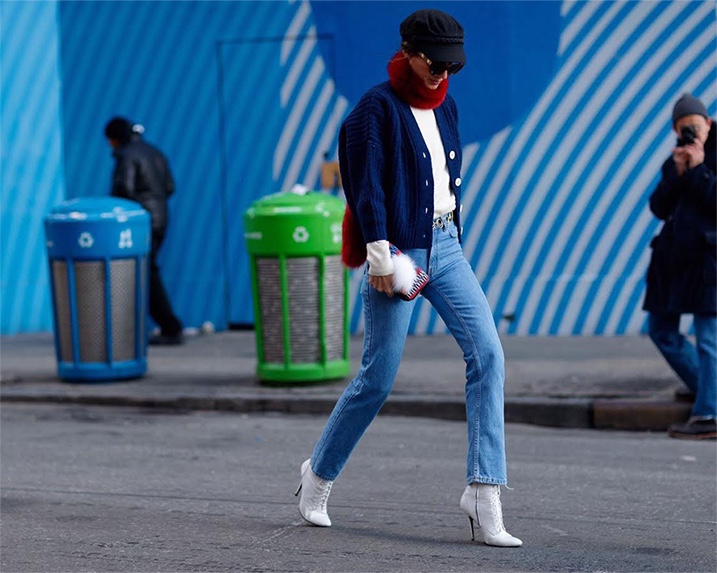 ///
It's in your jeans
Denim is the one thing all fashion week street-stylers fall back on - and this season is no exception. Spotted everywhere, the now-famous stepped hems (à la Frame and PAIGE Denim), plus a new wave of cropped flares (see MIH Jeans and J Brand) and pretty much everything in between, have led us to conclude that only one rule applies when it comes to denim: have fun with it!
///
Bag watch: Loewe
When we asked our buying team to pick the hero pieces they'll be wearing at fashion week, there was a resounding consensus on the bag label of choice: Loewe. And it appears they're not the only ones, as we've spotted Loewe bags in all shapes and sizes (including this adorable elephant charm) all over the streets of New York, London and Milan. Our accessories buying manager Josie Gardner's top choice? The multitasking Hammock bag. Swoon.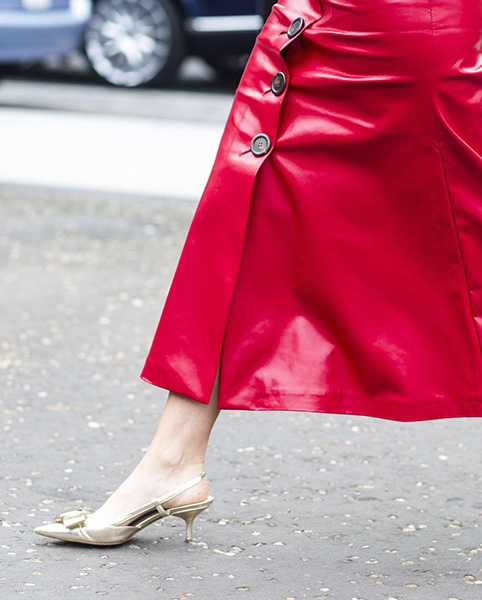 ///
Shoe watch: kitten heels
Kitten heels have made a quiet return to the catwalk over the past few seasons, and following Gucci's inclusion of a pair (with a bamboo heel, no less) as part of its Resort collection, we can now officially call it a comeback. The mini heel is perfect for office-to-out style and, like our stylish show-goers, we can't wait to slip our feet out of our winter boots and into something a little more elegant.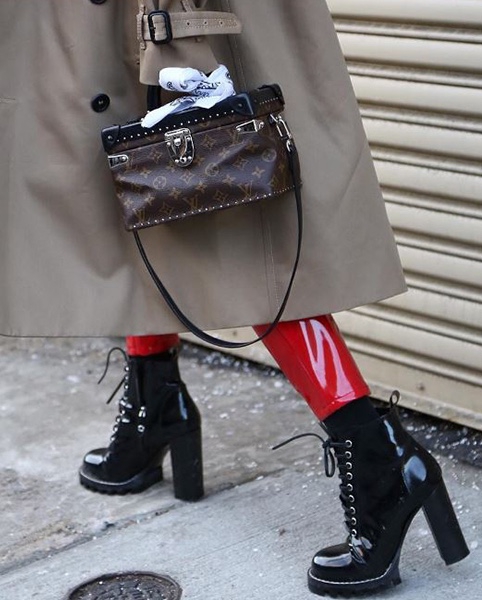 ///
#TiedTogether
This fashion week circuit has seen an unlikely star accessory - the white bandana - following the Business of Fashion's launch of #TiedTogether. The publication is urging people to "wear a white bandana as a sign to the world that you believe in the common bonds of humankind - regardless of race, sexuality, gender or religion". Street-stylers, designers and models alike have got behind the movement with gusto, and now you can buy your own white bandana at Selfridges. Wear yours tied to your bag (pictured), or peeping above the collar of your shirt.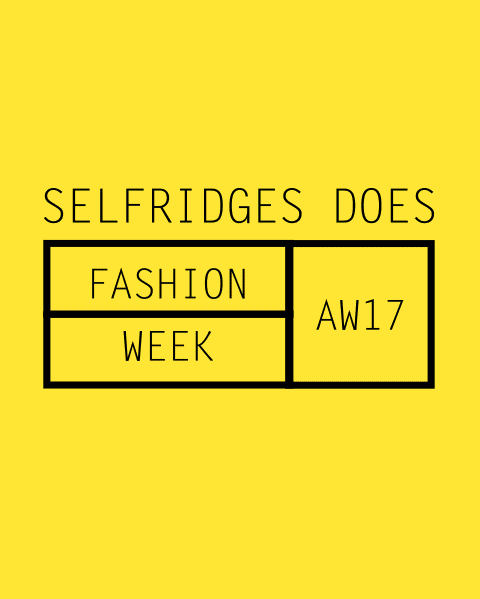 ///
Follow us on Instagram!
Want to see what we're up to during fashion week? Then head over to @theofficialselfridges on Instagram, where our buyers are revealing their standout looks from the shows each day (and they go to a lot of shows). Plus, we're bringing you the inside scoop on the coolest city hangouts, the best backstage beauty and much more.