Selfridges Loves: the new shapes of the season
SELFRIDGES LOVES:
THE NEW SHAPES OF THE SEASON
New season? Now? We say, bring it on. After all, as every good Brownie knows, it pays to be prepared in life - and in our case, fashion. Here, then, is our guide to the brilliant new shoes and bag shapes (think decadent envelope bags, sculptural block heels) to get your autumn wardrobe fully prepped.
As every good Brownie knows, it pays to be prepared. Here's our guide to the brilliant new shoes and bag shapes (think decadent envelope bags, sculptural block heels) to get your autumn wardrobe fully prepped.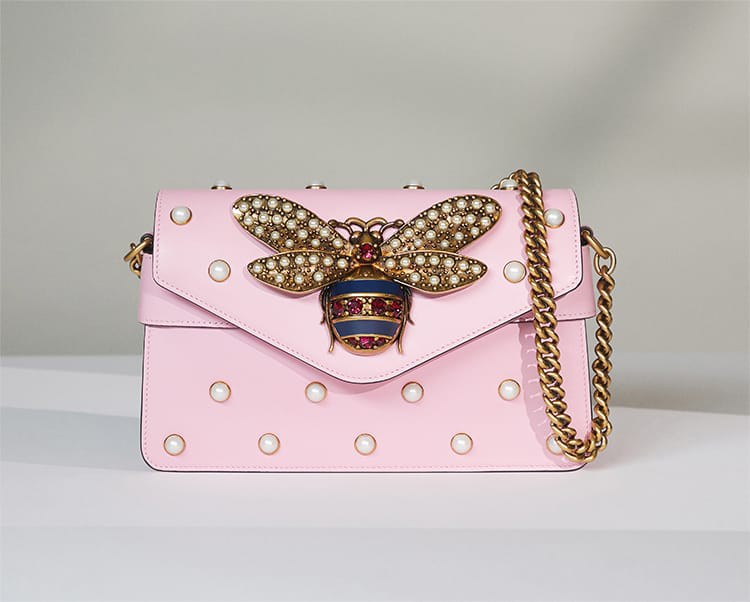 ///
You've got mail
If, like us, you're still mourning the lost art of letter writing (confession: our childhood stationery sets remain among our most treasured possessions), then the return of this postal-inspired bag will come as welcome news. And no, we're not talking about the latest style from Vetements and DHL (although, you never know, designer postal sacks could just be a thing?): the envelope bag is back. And with all things razzle-dazzle now firmly on the daytime agenda, you have to admit, Gucci's candy-floss pink incarnation really is the bee's knees. Try yours with dressed-down denim for day and a vibrant retro-print frock after dark.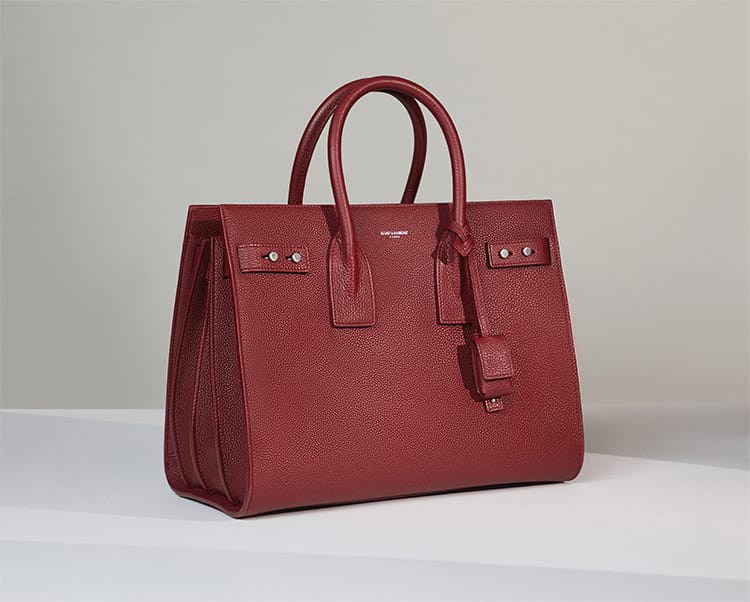 ///
Big softy
Attention, classic handbag lovers! Fashion's current penchant for loosening things up doesn't just apply to extra-wide trousers and exaggerated sleeves; now Saint Laurent is extending the mood to accessories, with its new slouchier take on the iconic Sac de Jour. Reworking the structured tote's signature accordion sides and clean lines in a suppler silhouette, we've got quite a soft spot for this laid-back version. Did someone say investment piece? You won't find a surer bet than this rebooted classic.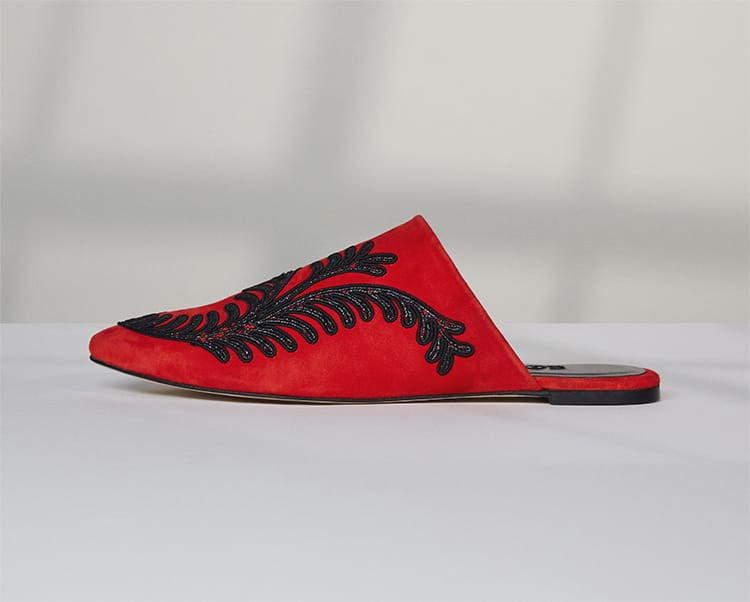 ///
Point break
While 2017's taste for fluid silhouettes and a near puritanical approach to baring skin has many benefits, it can pose a challenge when it comes to finding the right shoes to balance the look. Fortunately, the solution has arrived in the form of our favourite new shoe shape: the pointed-toe mule. Offering an oh-so flattering glimpse of ankle beneath your wide-leg trousers or long floaty dresses, not only does the pointed toe elongate your legs, but mules are so comfortable they'll rival even your most love-worn slippers – it doesn't get much better than that, right?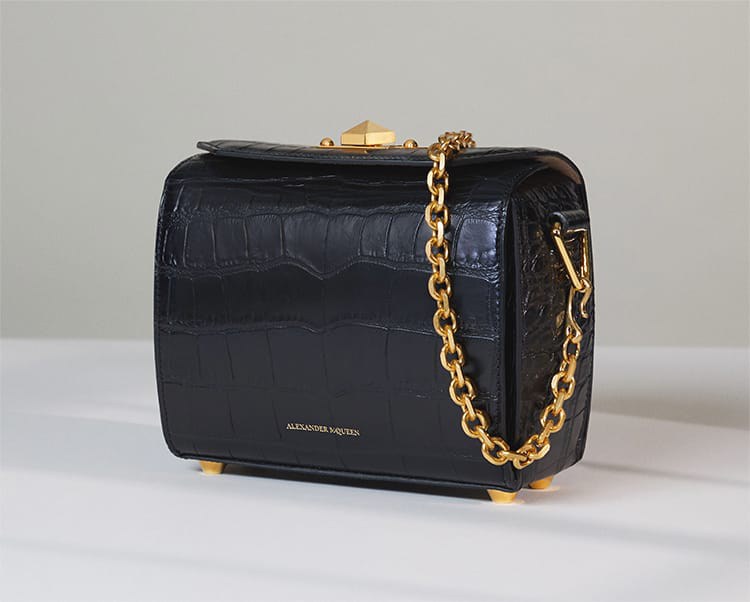 ///
Box clever
The envelope bag isn't the only shape taking us on a nostalgic trip down memory lane this season. Alexander McQueen's new style conjures memories of another treasured childhood possession: the jewellery box. Once unclasped, the bag opens to reveal three suede-lined compartments, each ready to be filled with your everyday trinkets. Crafted in croc-embossed leather with antique-inspired hardware, the bag includes interchangeable leather and chain straps, which can also be detached so it can be worn as a clutch. Well hello, Little Miss Versatile!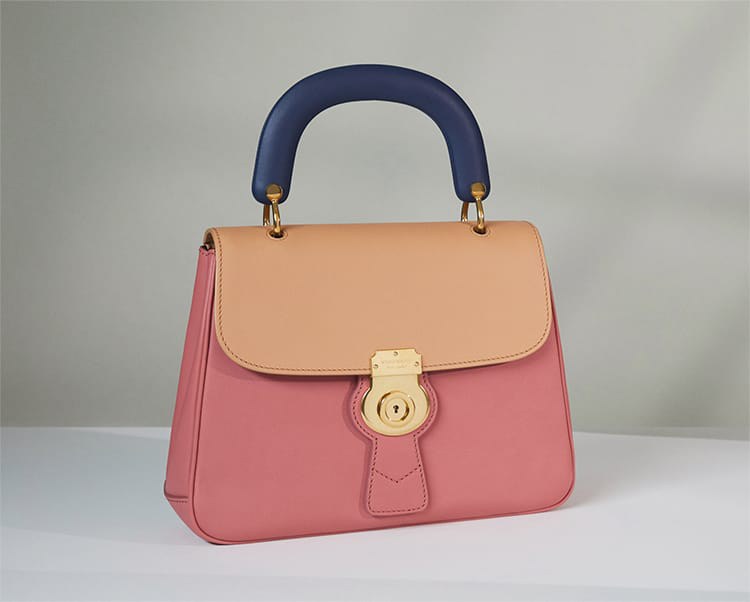 ///
Top of the class
Burberry has a knack for reworking heritage design in a way that feels modern, fresh and still inherently British. Case in point? Burberry's new DK88 bag, inspired by the brand's iconic trench coat (DK88 is the house code for the trench's gabardine fabric). While we're big fans of the tri-colour palette, it's the revival of the top handle that we're really excited about. How to wear it in 2017? We say, with it swinging from your hand rather than in the crook of your arm, and then counter the ladylike style with unexpected pairings like an oversized fisherman's knit with an ethereal lace skirt and biker boots.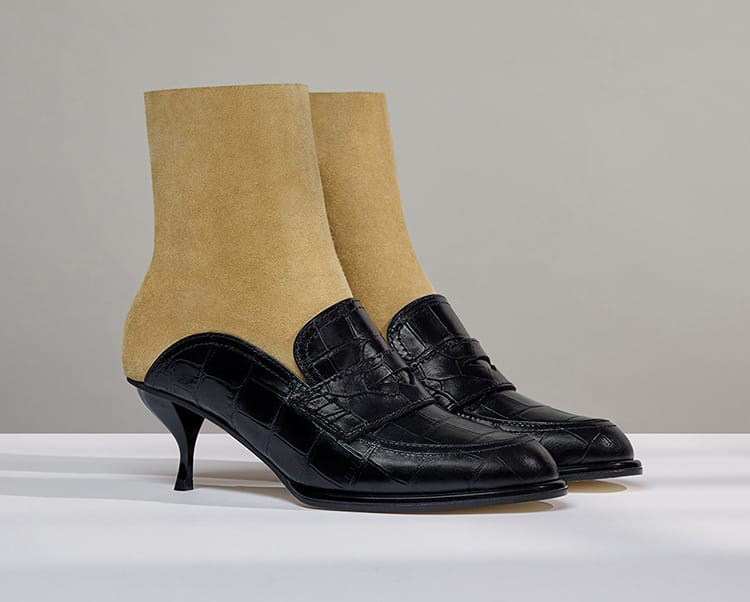 ///
Heel appeal
As the shoe world's love affair with kitten and block heels continues (while saving us from any potential 6-inch stiletto mishaps - phew!), designers are looking at new ways to keep them fresh, resulting in a influx of decorative heel shapes. Styles like this one from Loewe are the perfect way to energise this season's more pared-back looks. Other favourites include Vetements' genius cigarette lighter-heeled boots and Gucci's sculpted-heel pumps – because if you're going to wear a heel, you may as well have fun with it.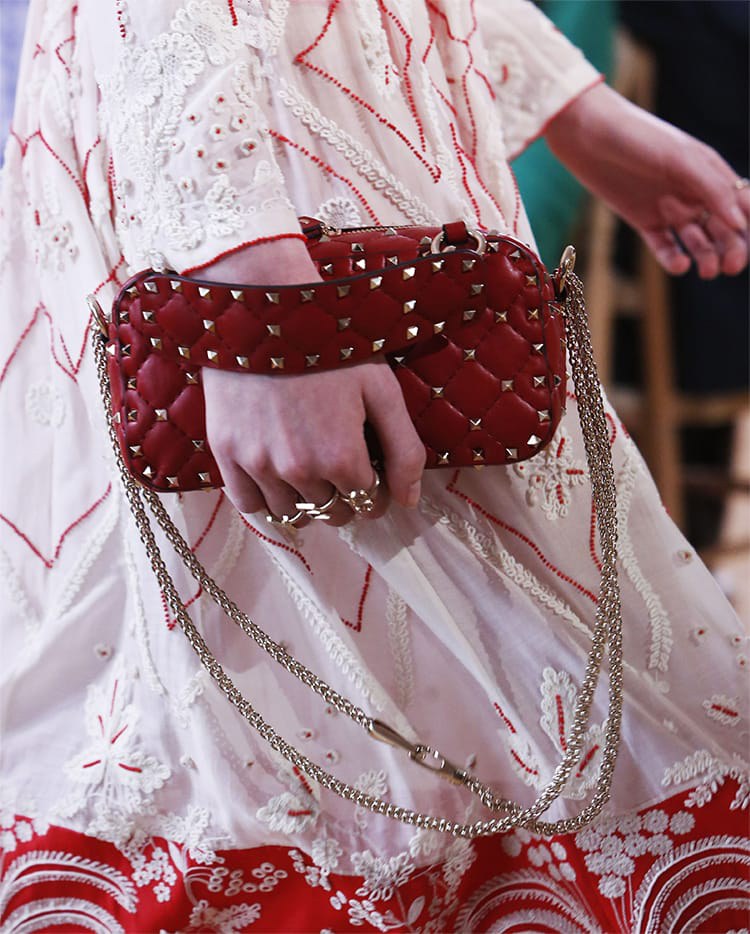 ///
Double clutch
It's always exciting when clever design leads to a fresh way to wear something. Exhibit A: Valentino's Rockstud Spike bag. Our eyes were opened to a whole new styling opportunity at Valentino's Resort 2018 runway show, where models sported the bag as a clutch, with the top strap repurposed as a wristlet. Now, why didn't we think of that?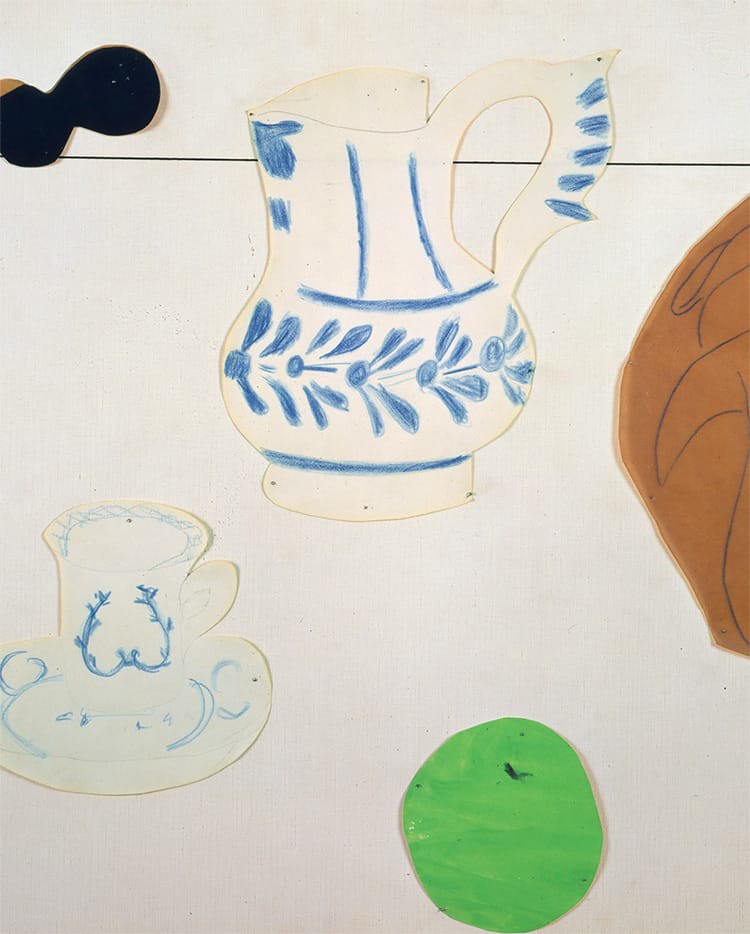 ///
Matisse in the Studio
While we're on the topic of shapes, later this year the Royal Academy will be giving you the chance to step inside the studio of the original master of colour and form, Henri Matisse. Recreating the space where he produced his famous artworks, the exhibition feels particularly pertinent given this season's slew of painterly prints, fluid shapes and rainbow colours (think Roksanda's vibrant patterns and Thom Browne's flowery accessories).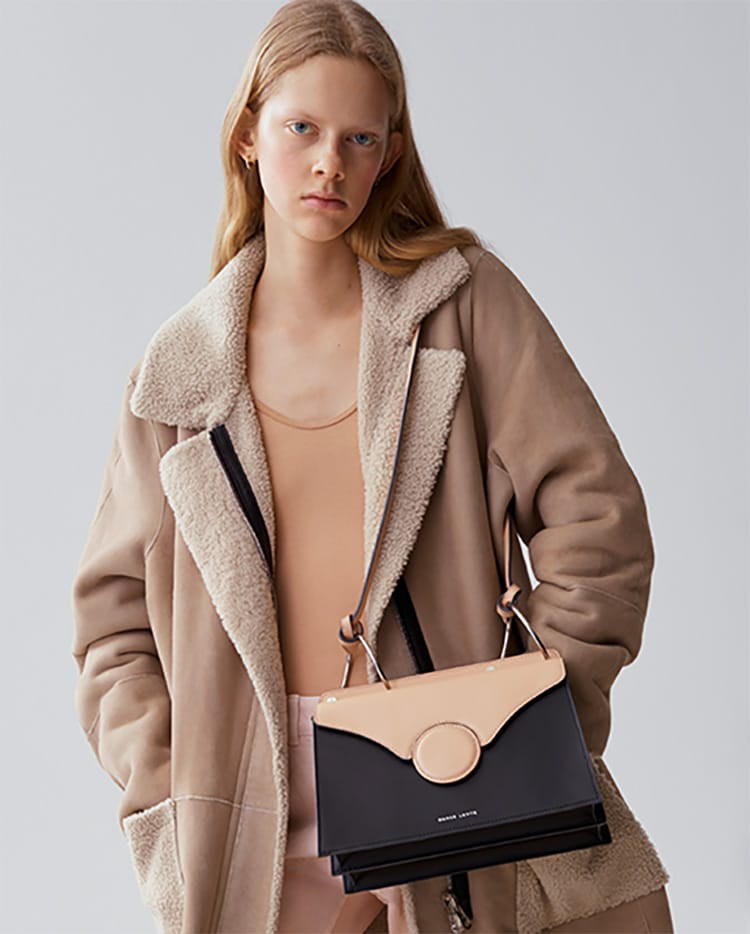 ///
New brand: Danse Lente
We took a quick straw poll in the office to see which of our new-to-Selfridges accessories brands (due to drop soon) we're most excited about. The winner? Danse Lente – if you haven't heard of this London-based accessories brand yet, it's time to get acquainted. With bold geometric shapes, colour-block palettes and an average price point of around £350, you're about to see a whole lot more of this emerging talent.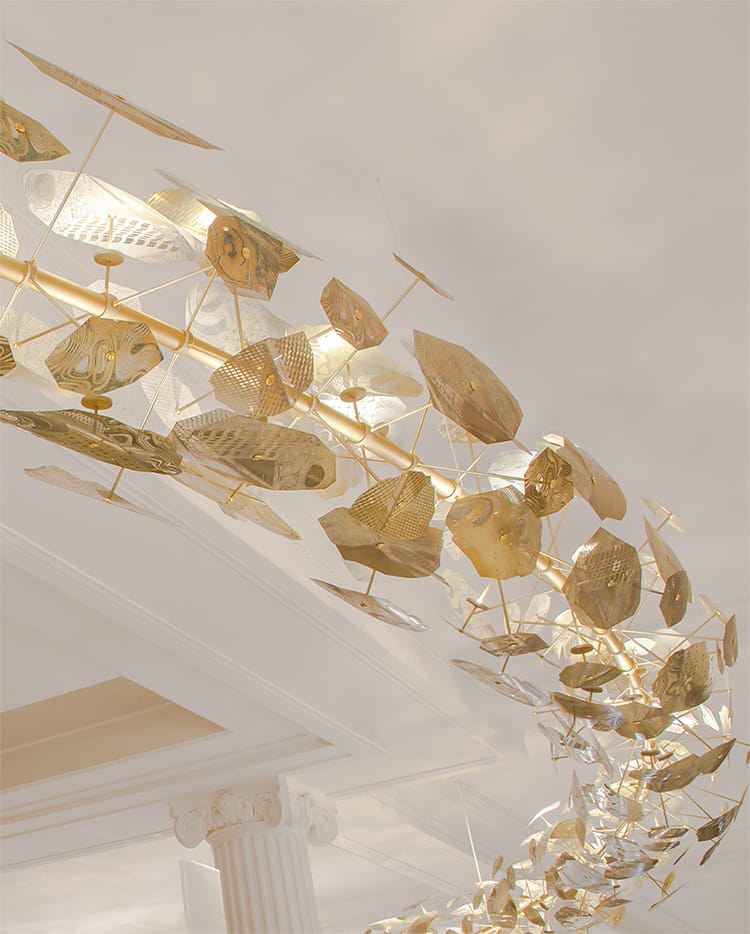 ///
Origin of Wonder sculpture
It's not just the accessories that are taking on enticing forms this season; the space in which they're displayed at Selfridges London is following suit with the arrival of a stunning new sculpture. Weaving its way through the Wonder Room on G (home to our collection of luxury jewellery and watches), the spectacular 63-metre light sculpture is crafted from over 1,000 photo-etched brass panels. Designed to depict the journey of the Wonder Room's precious metals and gems from source to finished spectacle, it's a must-see for your next visit.