The Balcony Restaurant
On Level 4
With stunning views over the Bullring, The Balcony is a contemporary take on a traditional brasserie that brings food and fashion together with new interpretations of classic dishes.
The menu, designed by Arnaud Stevens - formerly Gordon Ramsey's right-hand man, celebrates the best of British produce. There are plenty of healthy choices alongside more indulgent options, such as Lobster Lasagne, Super Food Salad and Oreo Cheesecake.
The Balcony opens at 10am with a brunch menu including dishes such as Chicken & Waffles, Chorizo Hash and Silver Dollar Pancakes. The Balcony also serves a fashionable afternoon tea from 3pm every day, with cakes inspired by the great fashion houses.
A beautiful Champagne Bar awaits those who need some sparkling refreshment, as well as a range of skinny-cocktails, smoothies and sumptuous wines.
Call 0121 600 6869 to book
Ed's Easy Diner
On Level 1
This all singing, all dancing all American Diner provides a classic take on America's signature dishes, from burgers and shakes to chilli-dogs and root beer.
Breakfast is also available for those in need of a feast before setting off to shop 'til you drop. If that's not enough - the classic Seeburg Juke boxes are sure to keep the kids entertained.
Ekachai Noodle Bar
On Level 1
Choose from a huge range of noodle based dishes or pick a healthy salad alternative.
This authentic Thai Malaysian food is as fresh and delicious as the name suggests – it means 'number one' in Thai.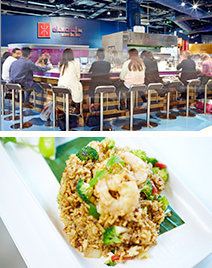 Itihaas Brasserie
On Level 1
Widely recognised as the pioneer of exquisite Indian cuisine, Itihaas is a stunning restaurant where contemporary meets traditional. The menu will take you on a culinary journey through the North of India with a couple of stops through Kenya and vibrant Mumbai.
Krispy Kreme Doughnuts
On Level 1
Whether it is indulging in one or spreading the joy with a dozen, Krispy Kreme doughnuts are simply irresistible.
Pret A Manger
On Level 1
Choose from handmade sandwiches, baguettes and salads, which are made fresh and additive-free.
For an on-the-go treat grab a soup from the daily specials or indulge in a pastry with a hot drink.
Rossopomodoro
On Level 1
Rossopomodoro is Italian for 'red tomato', highlighting the key ingredient that forms the base of a traditional Italian dish.
As the only branch outside of London, this exclusive dining experience will certainly satisfy the appetite with a range of authentic Neapolitan pizza made with the finest ingredients in a traditional wood burning brick oven.
Starbucks
On 1
Whether you're looking for a quick lunch or afternoon treat, sit down, relax and enjoy a catch up in Starbucks' cosy surroundings. Self service.
Please call 0121 600 6801 to speak to the team.
Yo! Sushi
On 1
Take your seat at the conveyor belt and be inspired by YO! Sushi's vibrant flavours, from sushi to katsu curry and ramen dishes. As with all our restaurants, YO! Sushi only serves sustainable fish. Eat in or take away.
Please call 0121 600 6712 to speak to the team.