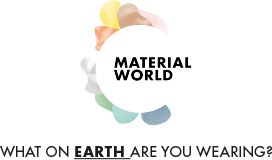 We invite you to unravel the stories behind your clothes and their effect on the world.
///
Selfridges Hot Air: Material World
What on Earth are you wearing? Explore the materiality of our clothes and their effect on our world in our film by Sara Andreasson and Anna Ginsburg.
///
Fashion week's 'forever' trends
How our favourite street stylers have mastered the art of timeless (aka sustainable) dressing
A single pair of jeans can use up to 11,000 litres of water during its lifecycle – that's enough water to sustain a family of four for a month.
///
Give me five: pieces to treasure forever
From Burberry's made-in-Britain trench to Mulberry's multi-tasking bag; reduce your fashion footprint with these beautiful pieces that will never go out of style.
///
Give me five: ways to make my style more sustainable
There are some simple steps we can all take towards making more sustainable style choices. Read on for our top tips.
///
Clothes with a conscience
Discover our favourite looks from the most exciting names in sustainable style.
///
Eight materials and how to wear them more sustainably
Discover the impact of the world's most popular materials, and how we can work together for a more sustainable future.
///
In Conversation with James Rebanks
Join us at Selfridges London on Wednesday 22 February at 7pm for a fascinating talk with Twitter's favourite shepherd, James Rebanks, as he shines a light on the declining British wool industry and explores how we can work together for a more sustainable future.
Buying better, inspiring change
Shop our buyers' pick of responsibly made womenswear, menswear and accessories
Almost 1.2 billion square metres of leather is discarded every year – that's nearly enough to cover 168 thousand football pitches.
///
Selfridges Loves: the bright new
sustainables
Meet eight designers who are championing innovative ways to create covetable yet responsibly made collections.
///
Our windows
We're raising the awareness of sustainable fashion one passer-by at a time. Have a scroll through our world-famous Oxford Street windows, inspired by eight of the world's most popular materials.
Cotton farming accounts for almost a quarter of the world's pesticide usage.