THE SELFRIDGES FASHION WEEK AWARDS AW17
From political fashion statements to the most swoon-worthy collections, we've been nominating our standout fashion week moments on Instagram throughout the month. Now, as the autumn/winter 2017 shows wrap up, it's time to reveal our winners… (drumroll, please.)
///
The love-at-first-sight award
Nominees: Gucci, Burberry, Simone Rocha, Gareth Pugh
Winner: Simone Rocha
Simone Rocha was lauded for delivering her best collection to date; her style signatures remained (gothic florals and deconstructed tulle) but with a decidedly more refined twist (think clean-cut military coats and elegant suiting). Rocha's new grown-up direction was reflected in her casting, which saw women of all ages, including 73-year-old model Benedetta Barzini, take to the catwalk in a triumph of diversity. Bravo.
///
Most Instagrammable show
Nominees: Calvin Klein, Anya Hindmarch, Prabal Gurung, Chanel
Winner: Prabal Gurung
This fashion week circuit has been one of the most politically charged to date, with many designers using their platform to stand up for causes close to their heart. Prabal Gurung's bold statement finale was one of the most 'grammed moments of New York Fashion Week, as each model marched down the catwalk in a T-shirt bearing a feminist slogan. Gurung dedicated the collection "to my mother, who always wanted to change the idea that the higher you go, the fewer women there are". Want to get your hands on one? You're in luck – the T-shirts will be available exclusively at Selfridges at the end of March.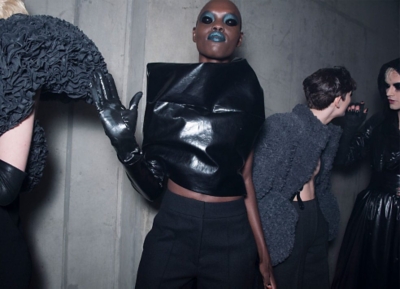 ///
Most powerful moment
Nominees: Roksanda Ilincic, Simone Rocha, Gareth Pugh, Balenciaga
Winner: Gareth Pugh
In his show notes, Gareth Pugh wrote that his AW17 collection presented "an austere vision of a world on the precipice of anarchy". Set in a dark, cavernous space under the streets of London, the sadomasochist-inspired collection, frenetic soundtrack (taken from CIA sleep-deprivation techniques) and models' haunting black eyes (created by Val Garland) made for a purposefully uncomfortable and intensely powerful experience that stayed with us long after the show's finale.
///
Best soundtrack
Nominees: Michael Nyman at Roksanda, Stone Roses at Topshop, George Michael at Moschino
Winner: George Michael at Moschino
In a tribute to the late, great George Michael, Jeremy Scott opened his AW17 Moschino show to the sound of George's 1992 hit 'Too Funky'. Scott's trash-chic-inspired show featured dustbin lid hats, shower curtain gowns and more brilliantly bonkers looks to rival the OTT Nineties kitsch in George's iconic music video.
///
Bag of the season
Nominees: Gucci, J.W. Anderson, Anya Hindmarch, Mulberry
Winner: Gucci's three-storey satchels
'Stack 'em up' seems to be the motto when it comes to autumn/winter 2017 bags, as Gucci, Anya Hindmarch and Mulberry all presented multiple bags, cleverly piled together. Our accessories buying manager, Josie Gardner, opted for this trio of Gucci satchels as her pick of next season. It's perfect for the indecisive among us – after all, why choose one bag, when you can have three?
///
Best newcomer
Nominees: Matty Bovan, Samuel Gui Yang, Halpern
Winner: Matty Bovan
Everything about fashion's favourite nonconformist Matty Bovan, who showed as part of the trailblazing Fashion East collective this season, is like looking into the future. His ultra-expressive, highly individualistic, multi-dimensional designs are a tonic to the mainstream, cookie-cutter approach we've become used to in recent years. Cue jaw-dropping fabric collages that say as much about cleaning up our society – re–appropriate, re-use, salvage – as they do about about the industry. Bovan and his fellow far-out fashion grads are the new (and hugely exciting) generation. Watch this space.