SELFRIDGES LOVES:
DECADENT ACCESORIES FOR DAYTIME
No longer confined to dinner parties and dance floors; spangly bags, ornate shoes and statement jewellery are gaining new round-the-clock appeal. After all, isn't there something just a little bit brilliant about wearing a ridiculously decadent accessory with a dressed-down ensemble? With designers showing oodles of standout accessories for SS17, here's how to bring on the bling – in the best possible way.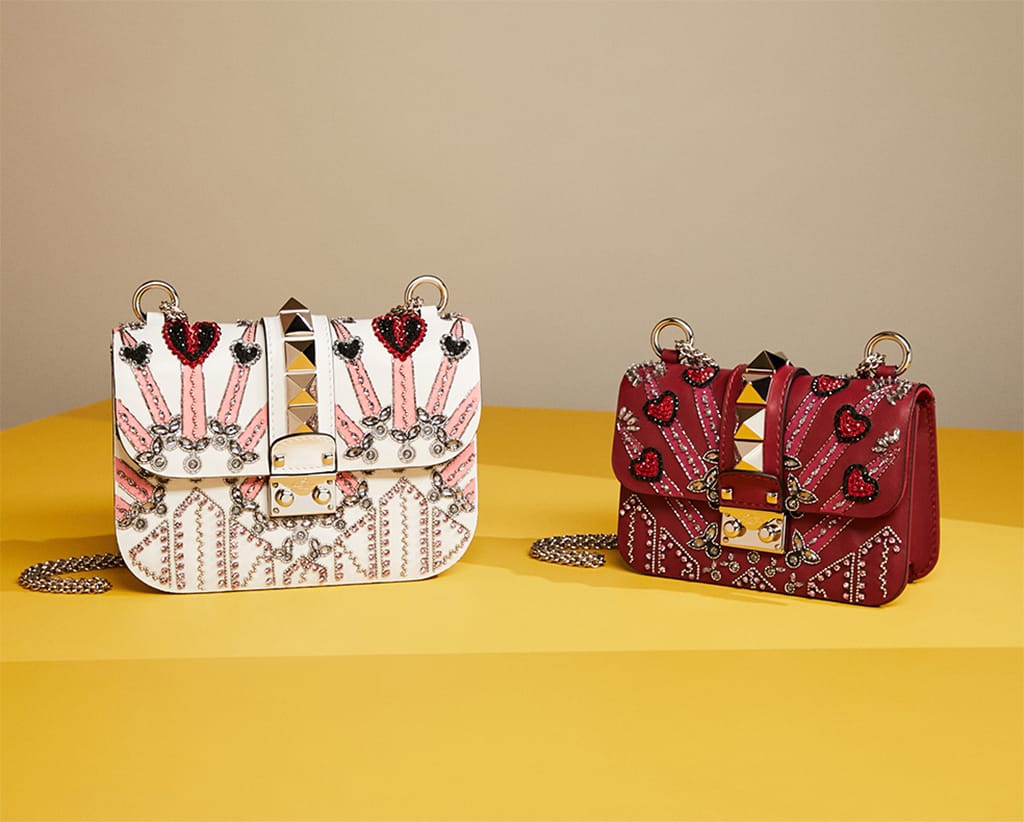 ///

Be my Valentino
Hello, heartbreaker! Adorned with bead, stud and jewel-embellished daggers and hearts, it was love at first sight when we spied these reworked Rockstud beauties from Valentino's new Love Blade collection. Plus, the luxe-with-an-edge embellishment means they'll look just as good with a satin slip dress and heels as they would a faded army jacket and trainers. Too much for your current state of heart? No fear: they also come in whimsical star and butterfly-embellished designs.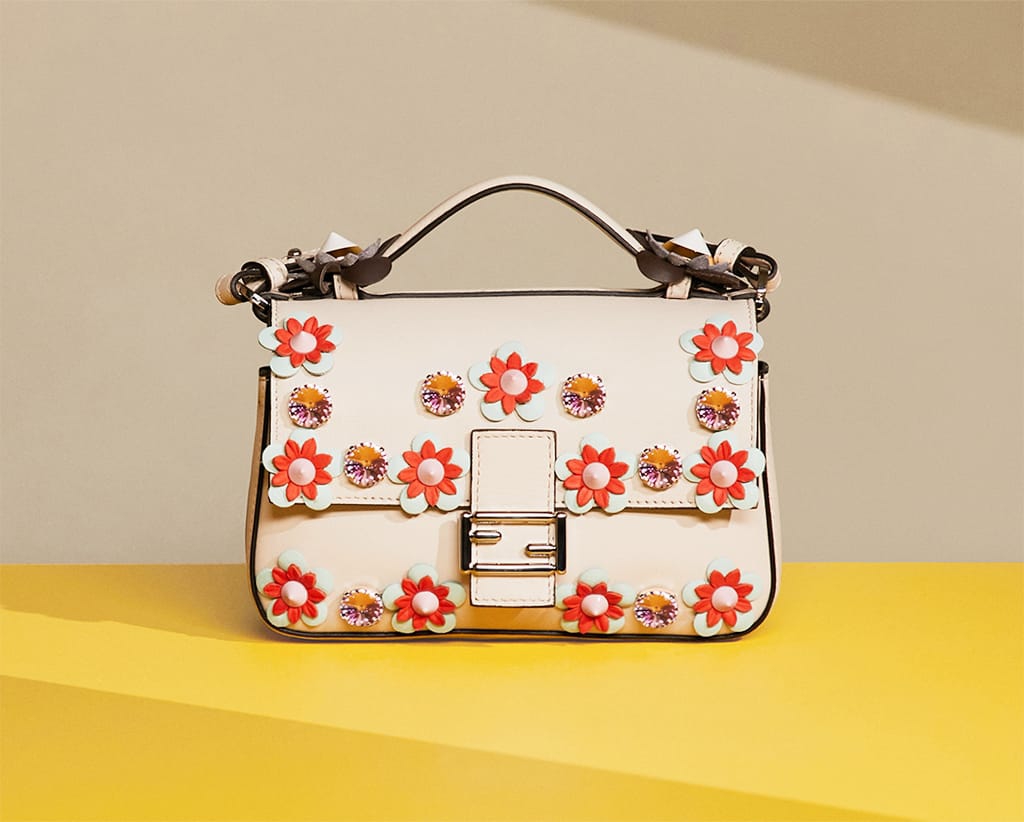 ///

Now available in 3D
Spring florals have entered the third dimension, thanks to this season's retro-cool flower-adorned shoes and bags. Playful, pretty and ever-so slightly prim: Fendi's baguette bag, with its cute Sixties-style Plexiglass petals and glittering crystal studs, is our pick of the bunch. The trick to wearing 3D florals? Offset the girlish detailing with rebellious wardrobe staples – think leather biker jackets and torn-up denim.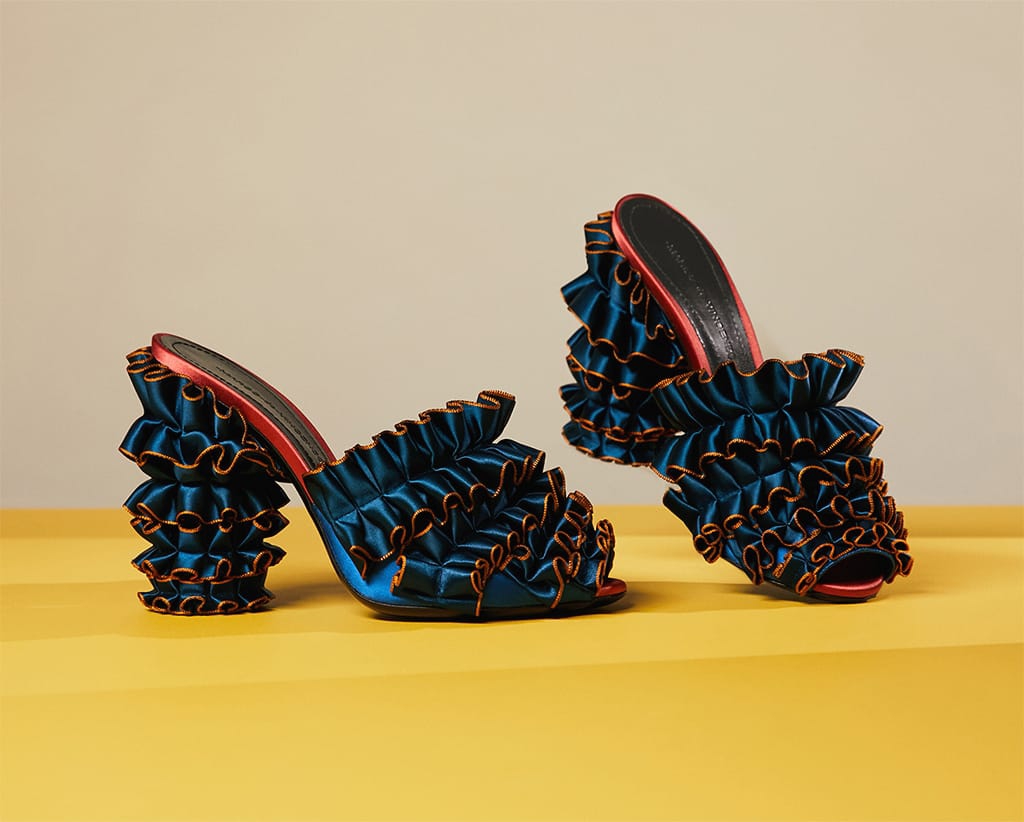 ///

Ready to ruffle
At first glance, they look far too pretty to wear (who doesn't have a collection of 'display-only' shoes at home? Or is that just us?), but our favourite street-style heroines have proven that even the most ornate footwear can pound the pavements with the best of them. They've also shown that for fanciful styles like these Marco de Vincenzo block-heel mules, it's all in how you wear them – frayed-hem jeans are the perfect foil to the playful ruffles.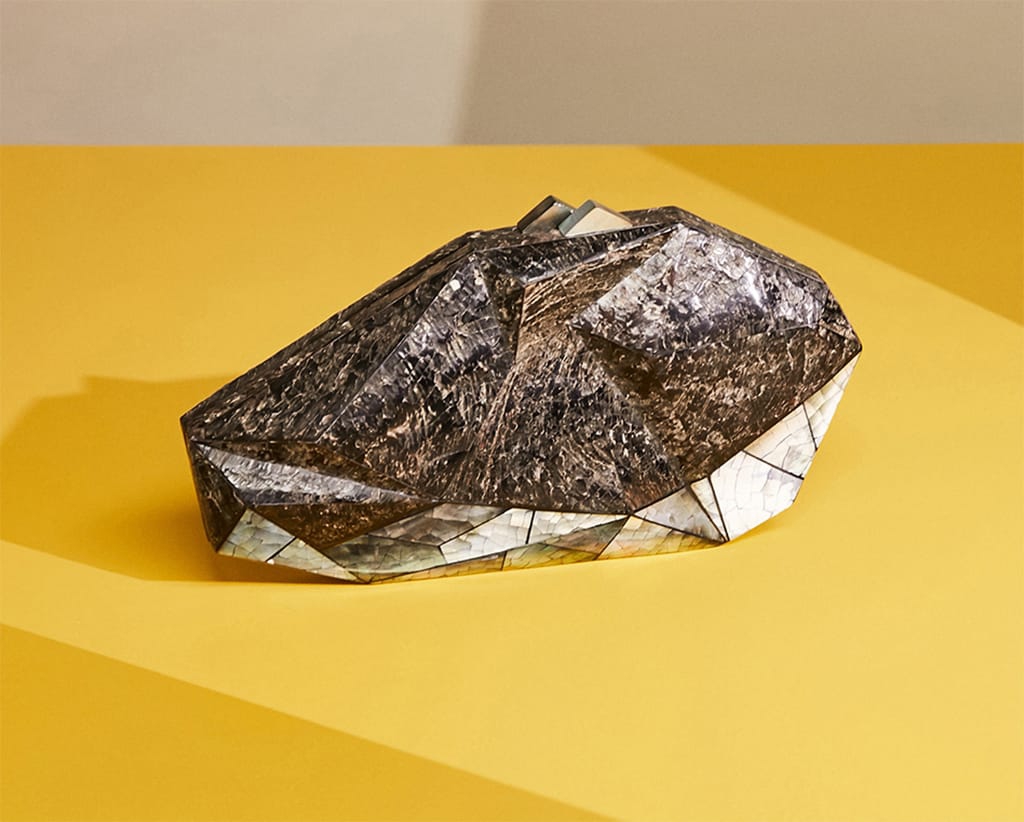 ///

Heavy metal
Nathalie Trad's otherworldly clutches look like they've just crash-landed from outer space. New to Selfridges this season, the Dubai-based designer took the bags' angular shapes from rock formations and handcrafted them from gold hammered brass, black shells and iridescent mother of pearl. The best part is – like all our favourite metallic bags this season – they catch the sunlight equally as well as disco lights. We say, translate yours for daytime with an oversized trench coat and classic loafers.
///

The Gucci tri-factor
Three Gucci shoes for the price of one – sounds too good to be true, right? Alessandro Michele (aka the king of the multi-tasking shoe) has created these platforms with a detachable velvet slipper that can be worn separately, while the remaining platform can be buckled up as a sandal. Platforms + slippers + sandals in one swoon-worthy shoe. Genius. Finished off with a jewel-encrusted snake, lustrous velvet and a silky floral print (it is Gucci, after all) – just add this season's minimalist, pared-back tailoring (the ideal partner for this season's bling-loving footwear).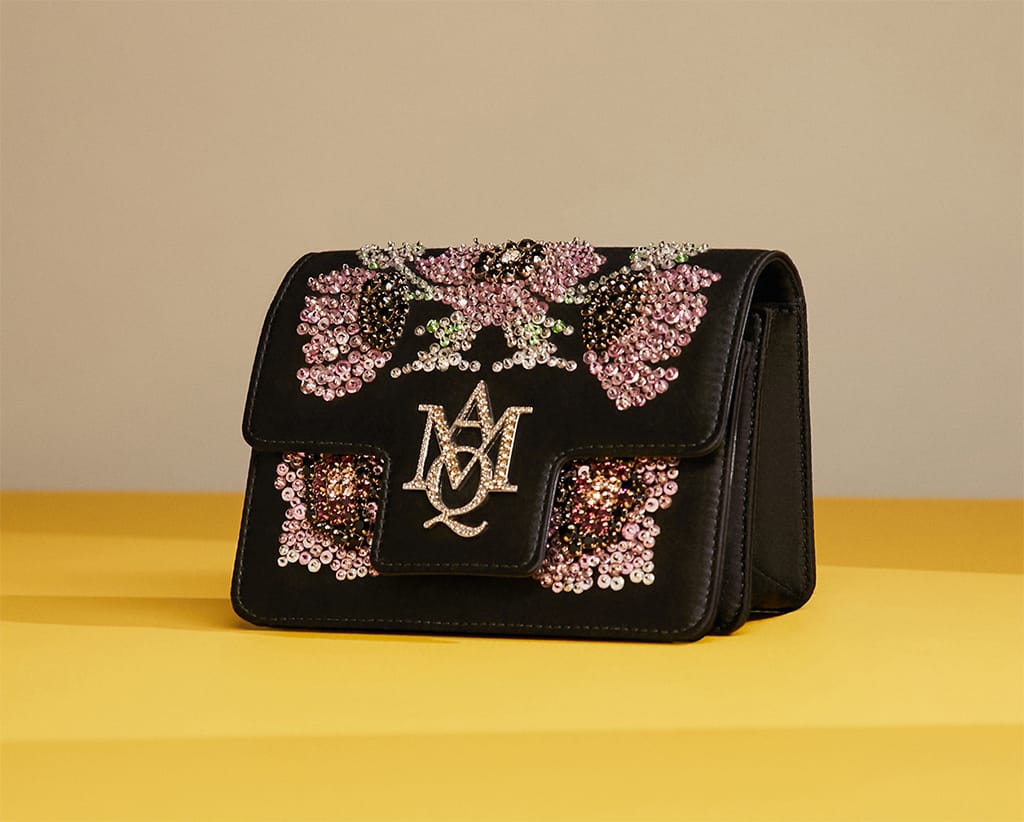 ///

Fine handiwork
This season's jewel, bead and sequin-embellished 'evening bags' are stepping into the light. Whether it's glittering floral motifs or bold geometric patterns, there's something about the daintiness of the intricate embellishment that feels so unexpectedly fresh with a classic daytime look. Play up the contrasts with an oversized bomber jacket and chunky slides.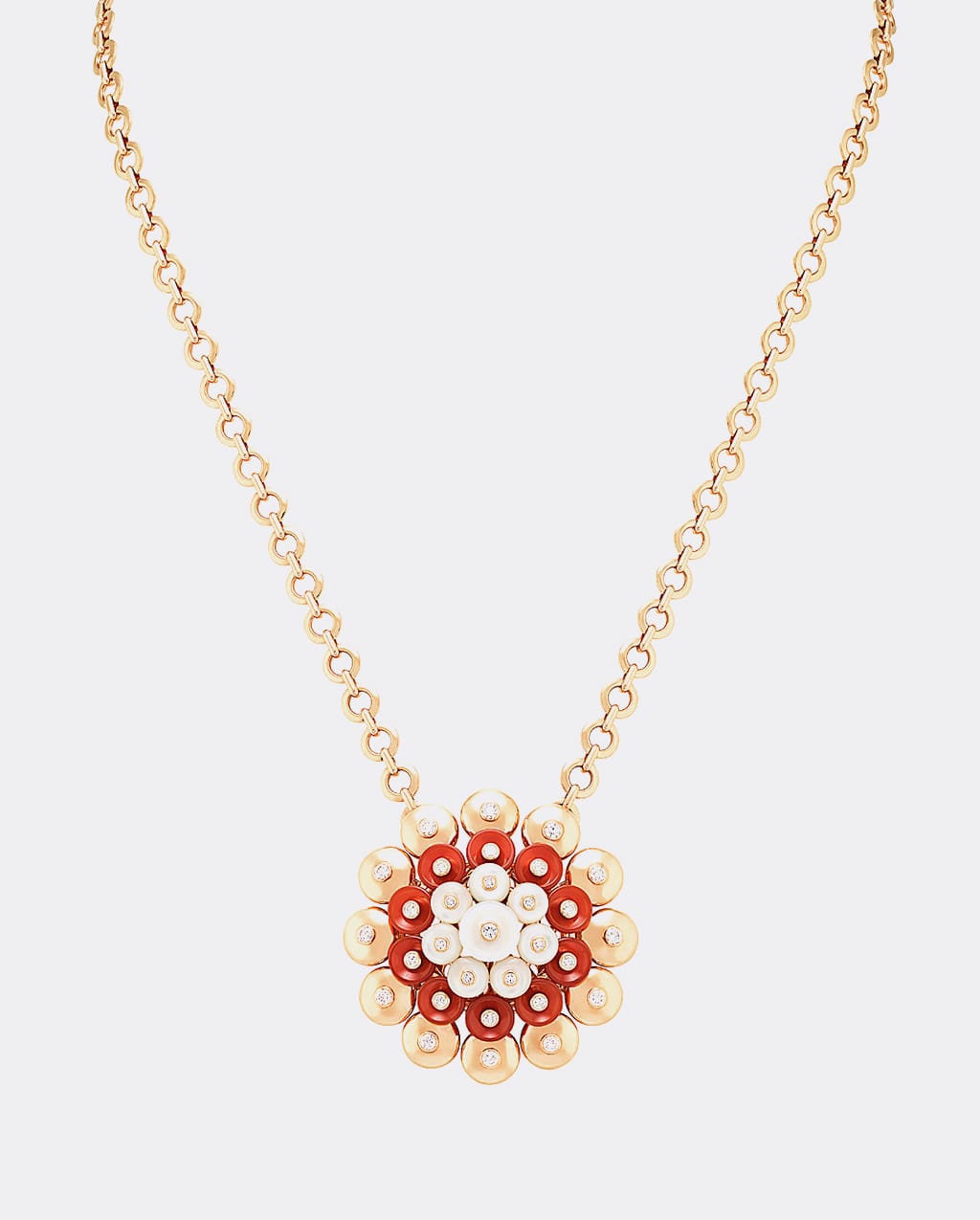 ///

Time to shine
The days of saving your most treasured jewels for special occasions are over. With designers from Loewe to Mulberry and Chanel showcasing precious, in-your-face accessories on everything from evening gowns to deconstructed shirts and tees – it's time to flaunt every gem in your jewellery box. Discover the latest fine jewellery in The Wonder Room at Selfridges London (now with a luxurious new private sales suite).
///

Italian stud
Nothing says summer quite like a playful bag with lashings of colourful studs, bold geometric shapes and look-at-me fringing. Enter on-the-rise Italian accessories brand Salar. New to Selfridges this season, they're just what we've been looking for to add some rock'n'roll flavour to our crisp white shirts and beat-up denim.
///
Taking it to the streets
Our favourite street-stylers provide an endless wealth of inspiration when it comes to making decadent accessories work around the clock. The first lesson? Throw all notions of what should be worn when out of the window. Then, it's all about finding the right balance: for day, the more lavish the accessory, the more laid-back the outfit; for night, it's all-out glamour, all the way.
///
The flip side
The mood for mixing fancy accessories with a fuss-free wardrobe works the other way, too – and we've got fashion's current trainer obsession to thank for this. Making a run for 2017's most unexpected pairing, the humble lace-up is providing a thoroughly fresh finish to this season's frilliest and most feminine dresses. It's the perfect way to bring a new lease of life to this summer's flouncy ruffles and ephemeral tulles. Comfy and cool – what's not to love?