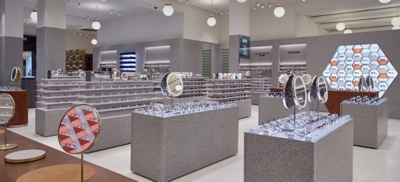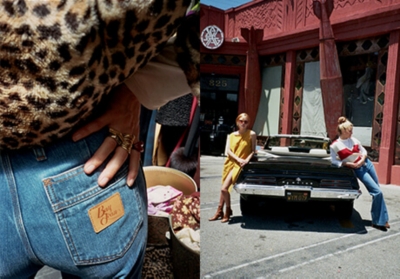 Self Discoveries: five things you don't want to miss at Selfridges this week
Welcome to Self Discoveries – a weekly round-up of our favourite happenings across Selfridges' four stores. From taking a peek at our eye-catching new window displays to a suit with a built-in jetpack (yes, really), here are the top five things not to be missed at Selfridges this week.
Eye-catching windows – all stores
If you haven't laid your eyes on the new window displays for our Eye See campaign yet, it's time to get yourself down to Selfridges. Each window is inspired by a different eye-related pun (mainly to celebrate the opening of our Sunglasses & Optical space at the end of this month, but also because we simply love a pun), and so we have 'The Eye of the Tiger' with a literal (well, sculptural) tiger and 'Eye Candy', which features tempting bags of candy floss packaged with equally tempting sunglasses. See the windows and other Instagram-worthy installations across all our stores.
M.i.h Jeans x Golborne Road by Bay Garnett (pictured) – Selfridges London

Looking for a summer look filled with London attitude? Then head to The Denim Studio on 3 at Selfridges London where style guru Bay Garnett has collaborated with M.i.h Jeans on a carefully curated collection, inspired by the heritage and eclectic style of west London's Golborne Road. The collection also includes a range of amazing vintage items sourced on a road trip across California (now there's a holiday plan for our bucket list!). The space is open from 16 July to 26 August, and Bay Garnett and friends will be hosting an afternoon of styling tips on 21 July, from 2–5PM.
Wine and dine like an Aussie – Selfridges London
As part of our All Eyes on Australia campaign in the Foodhall, we've invited Australian chef Andrew Wandless, from Michelin-starred restaurant Texture, to treat you to a delicious and characterful tasting menu of contemporary Australian fare on 16 July. Each of the four courses – plus additional canapés and petit fours – will be paired with an incredible Australian wine, taking you on a journey to Oz (minus the jet lag). Our in-house sommelier, Terry Threlfall, is also hosting a wine-tasting evening on 18 July, where you can taste some of the best wines the country has to offer, including some exclusives made just for us!
Monica Vinader: '10 Years of Friendship' – Selfridges Trafford
To celebrate 10 years of Monica Vinader jewellery – from those personalised bracelets you've delighted your friends with, to the bold new Siren collection you'll want to keep all to yourself – the team invite you to join them for delicious meringues, drinks, an exclusive look at the latest collections and 15 per cent off your favourite styles. Now that's what we call friendship!
Friday 13 – Sunday 15 July, store opening hours.
Everyone needs a jetpack suit, right? – Selfridges London
Yes, you read correctly: you can now live out your wildest James Bond dreams with the Gravity jetpack suit, available in Technology on LG at Selfridges London from 16 July. The suit allows you to fly into the sky at the touch of a button (while looking rather dapper, we must say) and you can even enjoy a full VR experience, courtesy of HTC's amazing VIVE headset. Just avoid taking your vodka martini with you, as it will likely become a little too shaken, not stirred!