Five ways to eat more sustainably at Selfridges
At Selfridges, sustainability runs through everything we do and nowhere more so than in our Foodhall. So ditch your plastic shopping bags (we make our iconic yellow paper bags out of recycled coffee cups, btw) and read our guide to eating and shopping more sustainably at Selfridges.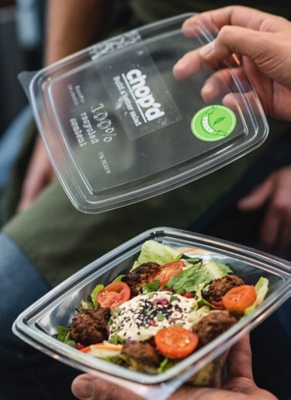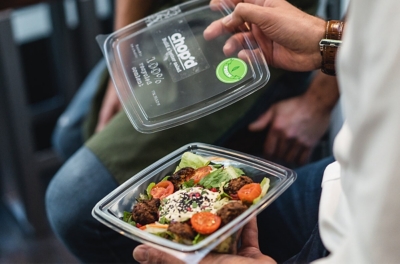 Did you know that a whopping 8 million tonnes of plastic enters the ocean each year and by 2050 plastic in the ocean could outweigh fish? Plastic waste from food and drink is one of the biggest culprits, which is why we launched our Project Ocean campaign in 2011 (we have since banned single-use plastic water and carbonated drinks bottles, plastic carrier bags, straws and microbeads). Our newest accomplishment? Chop'd in our Foodhall at Selfridges London is now serving salads in 100 per cent recycled (and recyclable) plastic containers. But what can you do to help? From investing in a sleek reusable water bottle (you can even refill it at our water fountain outside our main Duke Street entrance) to saying no to single-use plastic bags, every little helps.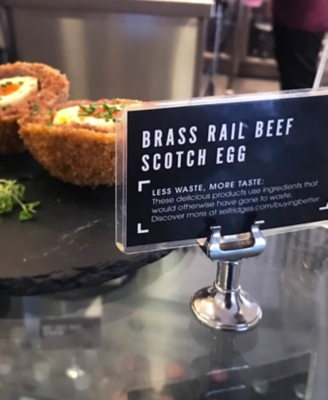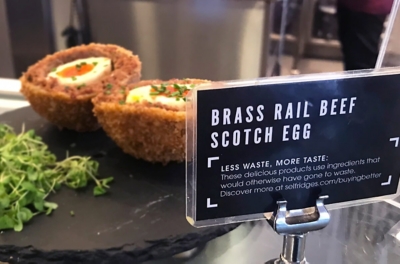 How often do you find yourself throwing food in the bin after it's been left untouched in your fridge? In the UK alone we waste 10 million tonnes of food each year, which is why Selfridges' Executive Sous Chef, James Holah, came up with our 'Less Waste, More Taste' initiative. Fruit, veg and other ingredients from our Foodhall and restaurants that would otherwise go to waste are collected and turned into delicious daily specials served in our restaurants or into tasty treats sold in our Foodhall (we also stock brands like Rubies in the Rubble and Snact that tackle food waste with their delicious chutneys and fruit snacks). Look out for the Less Waste, More Taste mark on our menus and food tickets to whet your appetite or find inspiration for what you could make at home from your leftovers – there's plenty!
We realised that across Selfridges there were a lot of flavoursome and nutritious products that were being overlooked. For example, in our eight restaurants we were throwing away small amounts of bread that actually added up to a large amount. Now, we collect them, dry them out and make breadcrumbs.

– James Holah, Executive Sous Chef at Selfridges London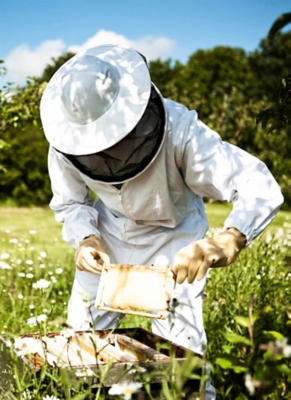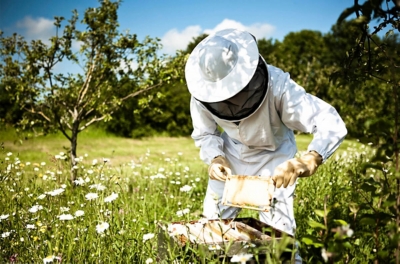 A tasty answer to eating more sustainably is cutting down on food miles. We love home-grown flavours and work with as many British producers as possible to stock our Foodhall and kitchens full of flavoursome, seasonal produce. One of our favourites is Daylesford, a sustainable and organic farm in the Cotswolds, where they not only grow but cook too. From jams to bone broth and bee pollen, you don't have to go searching far and wide for food that helps keep your carbon footprint down and the planet happy (hurrah!).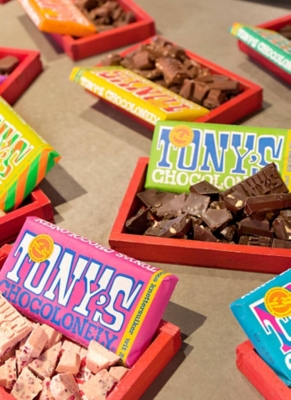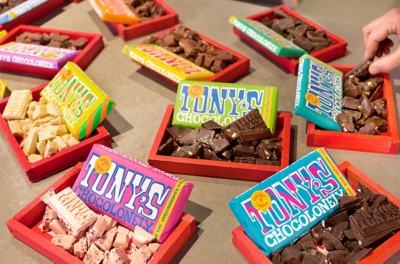 We love food that is not only good for the planet, but for people too. Which is why we feel pretty guilt-free when we treat ourselves to some of our ethically sourced chocolate from the Confectionery Hall. From brand-new Tony's Chocolonely (who have committed to creating a 100% Fair Trade cocoa industry by working closely with their cocoa farmers in Africa) to Cornwall-based Chocolarder (who ethically source their beans from all over the world) and oh-so stylish Goodio from Helsinki (who were founded on the principles of sustainability, well-being and transparency), chocolate just tastes that much better when it's made with love. Top tip: make sure you look out for the Fair Trade mark when you're looking for a chocolatey pick-me-up.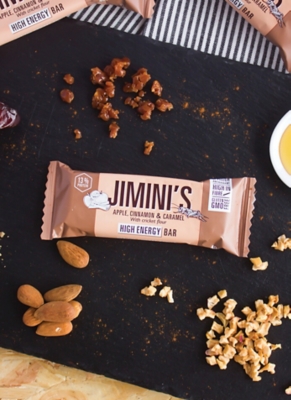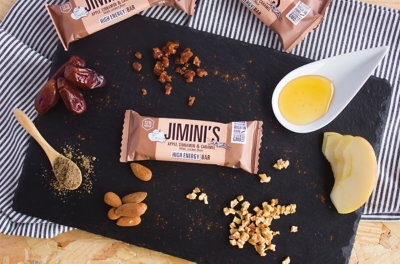 Hop to it: sustainable protein
As veganism remains one of the biggest talking points in 2019, where we get our protein from has become even more topical. With issues like C02 emissions caused by cattle farming, taking small steps, such as eating more protein from other sources, can make a difference. Here are some ways Selfridges can help: stock up on sustainable fish from the Southbank Fresh Fish counter in our Foodhall or dine in one of our restaurants – we only ever buy and serve sustainable fish. And if you're really looking to push the boundaries, why not go for insect protein? Yes, really. Available in our Foodhall, Jimini's range of food made from edible insects, including cricket granola and Buffalo worm pasta, reveals a whole new and innovative way of getting your daily protein dose.
Vegan Quinoa and Roasted Vegetable Salad with Brazil Nut Pesto
Try this protein-packed vegan recipe courtesy of Melissa and Jasmine Hemsley, who run the fabulous Hemsley + Hemsley Café in the Body Studio on 3 at Selfridges London.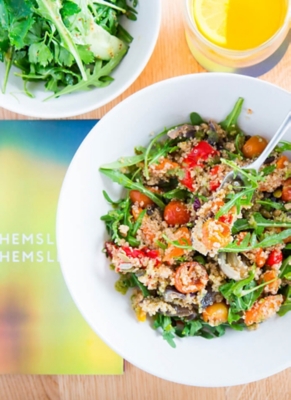 ROASTED VEGETABLE SALAD
4 large carrots, roughly chopped
1 large red pepper, roughly chopped
2 handfuls of cherry tomatoes or 4 large tomatoes, halved
1 large onion (we used red for colour), roughly chopped
3 large beetroots, well scrubbed and chopped into small chunks or little wedges as they take the longest to cook
1 tbsp ghee or coconut oil
A handful of fresh herbs, such as thyme, rosemary or 2 tbsp mixed dried herbs
Fresh leaves, such as rocket, lambs lettuce and watercress, to serve
Sea salt and black pepper
QUINOA
250ml water
250g quinoa
BRAZIL NUT PESTO
12 Brazil nuts
2 garlic cloves
3 large handfuls of fresh basil (stalks and all if you're using a strong blender)
300ml extra virgin olive oil
4tbsp lemon juice or 2 tbsp apple cider vinegar
1. Preheat the oven to fan 200°C/Gas mark 7
2. Lay the roughly chopped vegetables in a single layer on a large roasting tray, sprinkle with salt and pepper and add your dollops of ghee or coconut oil. Scatter over the herbs
3. Roast for 30–40 minutes or until the veg is tender (pierce with a knife to check). Halfway through the roasting time, use a wooden spatula to turn the veg
4. Meanwhile, make the pesto. Blitz everything together in a food processor or with a hand blender (the more nuts you add, the thicker and creamier your pesto will be, but if you want it thinner, add more oil and lemon juice). Alternatively, grab a sharp knife and finely chop the garlic, basil and nuts, then whisk with the olive oil and lemon juice. Season to taste
5. Bring the water to the boil in a pan, add your drained quinoa and cook for 12 minutes
6. Combine the quinoa and roasted veg in a big serving bowl, toss in your pesto and then the fresh salad leaves. Or, if preferred, serve your fresh salad leaves on the side with a little lemon juice and olive oil