BE PART OF THE SEA CHANGE…
Now in its eighth year, Selfridges' Project Ocean campaign has achieved a lot when it comes to looking after our oceans and their inhabitants – but of course, there's still a long way to go! From fighting plastic pollution by reducing our use and sale of single-use plastics to ensuring no endangered fish are sold or served at Selfridges, here we invite you to explore three easy ways we can all help to protect our oceans:
1/ AVOID SINGLE
USE PLASTICS
Soon there will be more plastic than fish in our oceans, so it's time we all reduced our use of single-use plastics. As part of our journey to rethink the way we use plastics, we have banned all plastic carrier bags, single-use plastic water bottles and products containing plastic microbeads at Selfridges.

To help you see through the plastics problem in true Selfridges style, we have brought together an edit of the most fashionable re-usable water vessels in store.
SHOP REUSABLE WATER VESSELS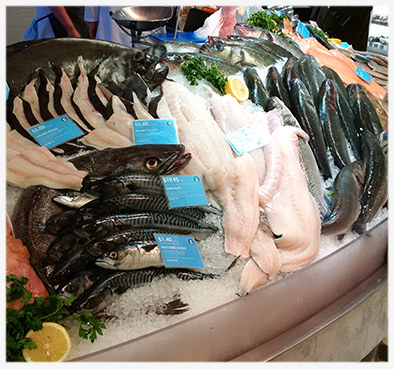 2/ SAY NO TO EATING
ENDANGERED FISH
If we carry on eating fish in the way we currently do, there will be no more fish in the sea. That's why we work with Southbank Fresh Fish sustainable fish suppliers (amongst others) to never sell or serve endangered fish at Selfridges. Find out which fish you should take off your menu here.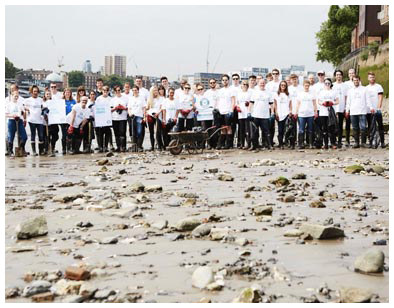 3/ BE A LITTER
PICKING HERO
By picking up just three pieces of plastic a day and recycling them, you could be making all the difference. If you want to do your bit to create a better environment and help protect our oceans, why not organise a litter pick in your area? Here at Selfridges, our Green Warriors have organised Thames beach cleans to tackle the plastic pollution in our city.
DIVE INTO OUR HISTORY
Now in its eighth year running, we share the story of how together we have triggered a sea change in the way we care for our oceans.
2018
Now in the eighth year of Project Ocean, we've removed all single-use plastic carbonated drinks bottles from our Foodhalls and restaurants and have even installed our own public water fountain at our new entrance on Duke Street in London. This is the latest in a series of initiatives to turn the tide on plastic pollution in our oceans, which also includes recycling coffee cups to help make our iconic yellow carrier bags.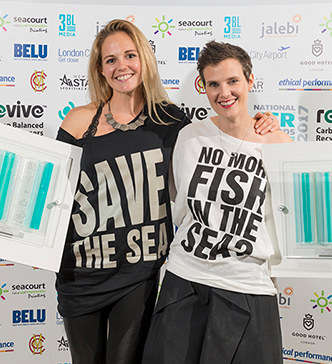 2017
#ONELESS
For 2017, we stopped selling all beauty products containing plastic microbeads and have also stopped using plastic straws in our restaurants and bars. We continue to encourage other businesses and our customers to abandon the use of single-use plastic water bottles by supporting the #OneLess campaign.
2016
MESSAGE IN A BOTTLE
For 2016, we are continuing to inspire other businesses and our customers to ditch single-use plastic water bottles by supporting the #OneLess campaign to make our cities and communities plastic water bottle free.

From contacting our partners to encourage them to remove plastic water bottles from their businesses to creating an exclusive range of reusable water vessels designed by the likes of Henry Holland, Mawi and Y-3 - this year we aim to turn the tide on the misuse of plastic.

In May 2016, Selfridges was awarded the World's Best Sustainability Campaign by a Department Store at the Global Department Store Summit. Chosen for our innovative approach to corporate social responsibility, the award also recognises Selfridges as the first and only department store in the world to achieve the Carbon Trust Triple Standard, for significant reduction of our carbon and water and for the improvement we have made in our waste management year on year.
2015
SEE THROUGH THE PLASTICS PROBLEM
We are committed to making a big difference with Selfridges Project Ocean - both now and in years to come.

This year we are highlighting the dangers of single use plastic, encouraging everyone to reduce, reuse and recycle plastics. 60-80% of all marine debris is plastic, which kills animals and breaks down into our food stream – so it's time we started to change the way we use plastics.

Here at Selfridges, we are removing all plastic carrier bags and all still and sparkling plastic water bottles from our store. Not afraid to get our hands dirty, Selfridges team members came together in June to clear plastics from shores of the Thames by Island Gardens. We still have lots of work to do, but it's a step in the right direction.
2014
GOING GLOBAL
Last year Project Ocean took centre stage at the once-a-decade World Parks Congress in Sydney. A Zoological Society of London delegation spoke to a global audience of charities and government officials about the importance of Project Ocean in shifting consumer perceptions.Other successes included funding tiger shark tracking in the Western Indian Ocean and producing an engaging animation about the story of Project Ocean and our future aims.
2013
SAVE OUR SHARKS
In 2013 we bit back against stereotypes around sharks with the 'Save Our Sharks' exhibition, highlighting how important these toothy predators are to our oceans. 25% of the world's shark species are now threatened and humans are responsible for killing around 100 million sharks every year.

We are therefore committed to ensuring all products in our Beauty Hall are free from shark oil and shark by-products.
2012
SPREADING THE WORD
Through the Marine Reserves Coalition, we published the first ever league table of nations with marine protected areas.

To engage a new generation of customers, we launched the Kids in The Kitchen Cook-Off, encouraging budding chefs to think about the fish they serve on their plates.
2011
NO MORE FISH IN THE SEA
We launched Selfridges Project Ocean with a storewide takeover:from extraordinary food events to amazing window installations and limited edition T-shirts by Katherine Hamnett emblazoned with the slogan 'No More Fish in the Sea'.

We ensured only non-endangered fish are sold and served at Selfridges and began producing the fish guide, which helps customers to navigate away from endangered fish.

We also helped to create the Marine Reserves Coalition and raised money to develop the 50-hectare Selfridges Marine Reserve in the Philippines.
THE PROJECT OCEAN EXHIBITION AND WATER BAR
From July to September 2015, The Ultralounge at Selfridges London was transformed into an exhibition curated by Jane Withers. The exhibition brought together works by designers and artists, including Studio Swine, Andrew Friend, Nick Wood and Alice Dunseath, which shed light on the plastic problem and propose alternative futures.

At The Water Bar, Arabeschi di Latte reconsidered the everyday ritual of water drinking, inviting us to imagine life without the plastic water bottle.

Together these experiences and exhibits aimed to show how, through reconsidering how we use and abuse plastic, we can all be part of the sea change.
"We make the weight of every man, woman and child on earth in plastic every year. Can you imagine if we recovered that and reused it?"
Captain Charles J. Moore, Oceanographer and transatlantic sailor who discovered the Great Pacific Garbage Patch in 1997.
A SEA OF CHANGE
How will you be part of the sea change? In this imaginative film by Liam Saint-Pierre, follow one man's epic quest to save our oceans from plastic pollution, and discover how the solution may be closer to home than you think.
Project Ocean
How you can help
A sea of change
History