Selfridges Loves:
the new unisex
In the two years since we launched Agender (our campaign exploring shifting gender boundaries through fashion, music and design), the liberating shift in notions of gender has had an effect not just on the way we dress but also on the way our buyers at Selfridges, well, buy. "At first, we were seeing men shopping on the women's floor and vice versa," says our womenswear buying manager Heather Gramston, "but now this has evolved, as designers are responding with a more fluid approach to gender – particularly in streetwear – and also by breaking down constructs such as separate runway shows for men and women." In an ode to the gender evolution, we share 10 reasons why the blurring of boundaries seems more relevant now than ever.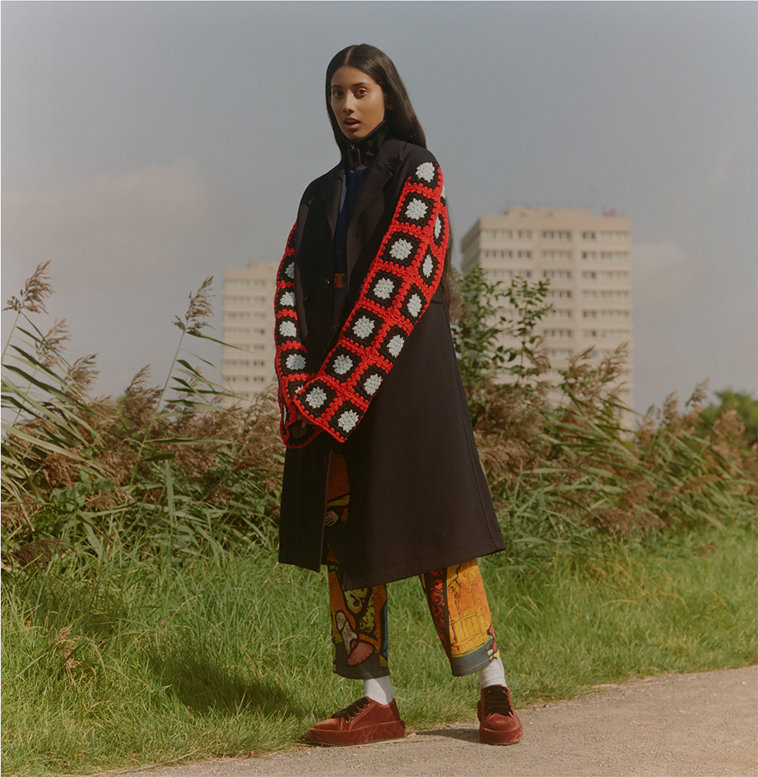 Jonathan Anderson's boundary-breaking re-interpretations of masculinity and femininity have made him one of Britain's most pioneering designers. By tearing apart preconceived notions of gender with his thought-provoking silhouettes (a 'conscious cross-pollination' between menswear and womenswear elements – think oversize tailoring, lace and silk fabrics, bold prints), he has helped shift the fashion landscape and highlight the cultural conversations of the day. As he explains: "It's fascinating to ask, how does this reflect into clothing? What does lace or silk mean, on a man or a woman?"
Signature look: Non-binary tailoring married with quirky prints.
Selfridges says: "Our menswear selection of J.W. Anderson is constantly being shopped by women too, in particular the sweaters, knitwear and accessories." – Jack Cassidy, Selfridges' menswear buyer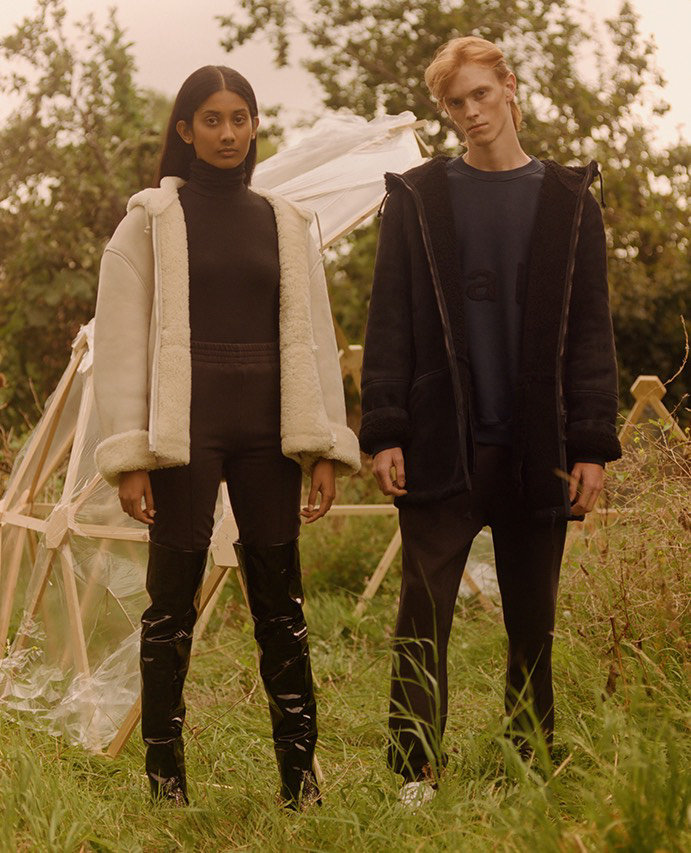 Now in its fifth season, Kanye West's utility sportswear label has moved beyond its bodycon versus supersized silhouettes to a unisex cut that calls for a redefinition of relaxed as the new regular. Kanye West has long abandoned gender norms when it comes to his personal style; speaking to Paper magazine about the time he famously wore a Givenchy leather kilt, he said: "When I saw this kilt, I liked it. I was into it. It looked fresh to me. I felt creative; I didn't feel limited by some perception."
Signature look: Pared-back sports separates in weighty jersey fabrics.
Selfridges says: An oversize shearling coat you can fit endless winter layers under? Genius (right, Kanye?).
At first, we were seeing men shopping on the women's floor and vice versa, but now this has evolved, as designers are responding with a more fluid approach to gender by breaking down constructs such as separate runway shows for men and women.
Heather Gramston, Selfridges' womenswear buying manager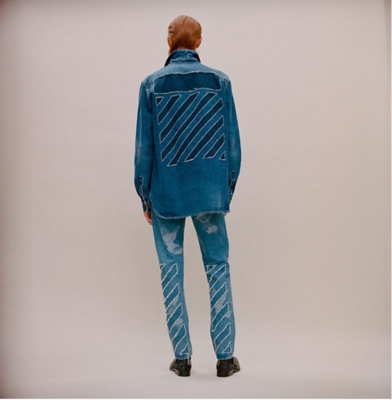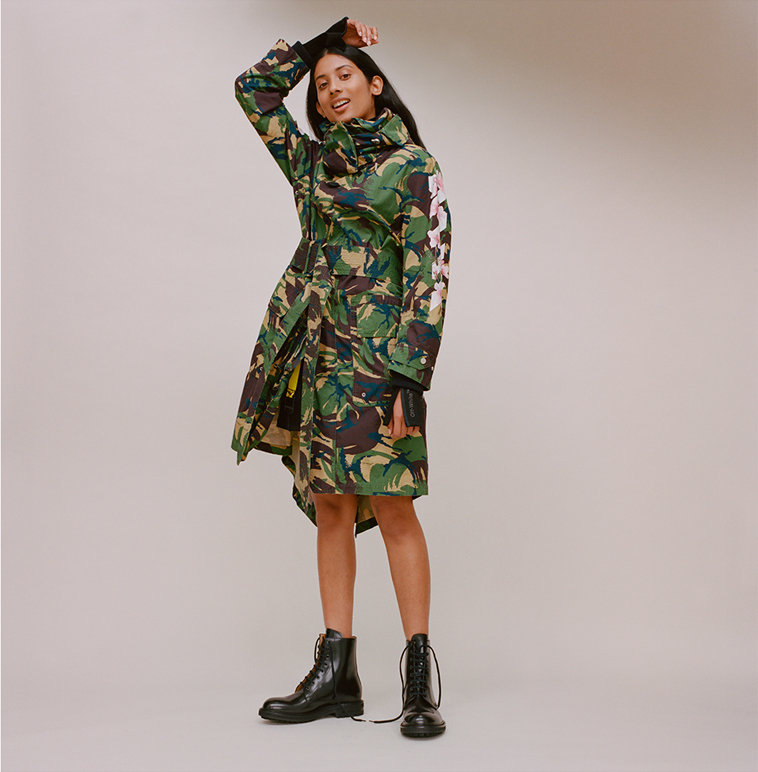 OFF-WHITE c/o Virgil Abloh
'Defining the grey area between black and white as the colour Off-White', Virgil Abloh has always been interested in the space in between, and his label has been a pioneer in streetwear's transcendence of gender. He explains: "What I'm attempting to do is challenge notions of luxury, challenge notions of men's and women's clothes, and exploring these things to put them into one." By refusing to take the traditions of tailoring and construction for granted, Abloh's exaggerated silhouettes and fabrication mash-ups have garnered a huge fanbase, including the likes of Beyoncé, Karlie Kloss, Jay Z and Sofia Richie.
Signature look: Gender-neutral streetwear influenced by 1990s skate culture and 2000s hip-hop, punctuated with stark diagonal stripes.
Selfridges says: "Off-White is our number-one brand on the Menswear floor that is shopped by couples, who often buy the same item in different sizes. Women often shop on the Menswear floor as they prefer the more relaxed and oversized silhouette that's available." – Jack Cassidy, Selfridges' menswear buyer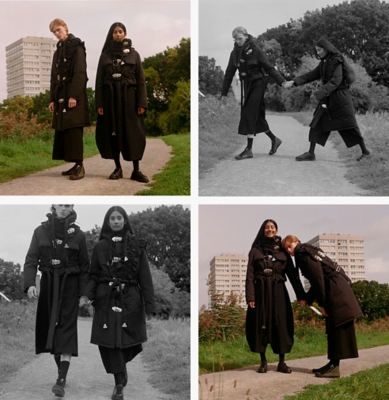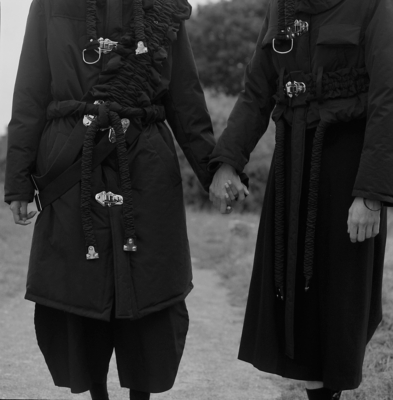 When menswear designer Craig Green won the Fashion Museum's Dress of the Year 2015 (the first time menswear has been chosen exclusively for the award), he saw it as a sign of the times: "The rules and restrictions as to what is gender specific have become increasingly blurred. It feels like something that should be celebrated." The winning outfit – a blue quilted coat and matching trousers with hanging ties – was hailed as encapsulating the prevailing mood of fashion by transcending gender in an effortlessly beautiful way. All hail, Craig Green.
Signature look: Uniform and utility menswear concepts that have found a loyal fanbase regardless of gender.
Selfridges says: We can't get enough of Craig Green's knack of making his craft-focused designs appear futuristic and new. This jacket (above right) wouldn't look out of place in 'Blade Runner 2049'.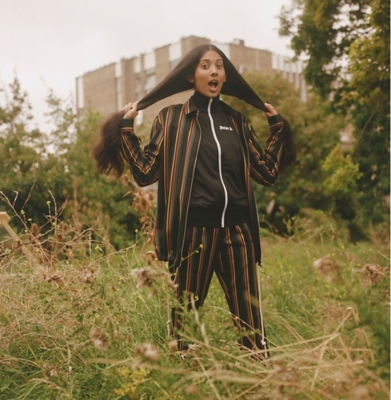 Inspired by frequent trips to Venice Beach, Los Angeles, to photograph skateboarders, Francesco Ragazzi (the Italian artistic director of Moncler) created Palm Angels in 2015 to encourage people to push back against traditional conventions. The result? LA skate culture meets Milanese tailoring with a refreshing gender-oblivious twist – cue striped track pants and zip-up jackets in bold Rastafari hues and palm tree-print blazers – that has caught the attention of Pharrell Williams, A$AP Rocky, Kendall Jenner and DJ Siobhan Bell among others.
Signature look: Upscale tracksuits and fiery skater prints.
Selfridges says: Take your styling cues from Francesco Ragazzi, who suggests mixing up his Cali-cool designs – "wearing one designer head to toe is not modern, to be honest". Skateboard optional.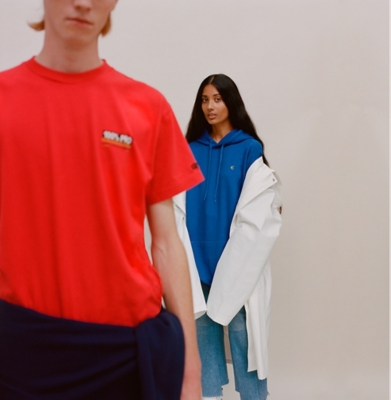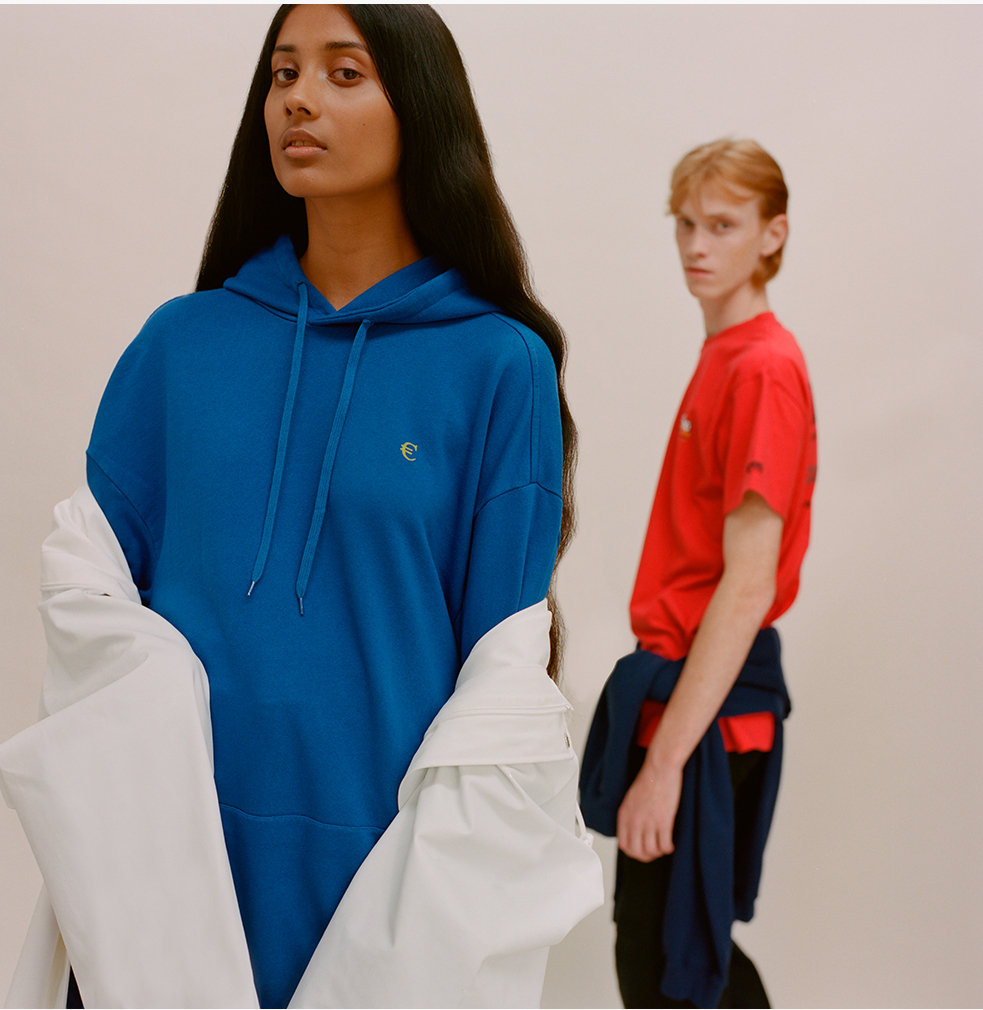 When Vetements announced they were combining their menswear and womenswear runway shows into one, CEO Guram Gvasalia told 'Vogue': "Today, men wear womenswear and women dress in men's clothes. Gender is not a given fact anymore; a person has the right to choose one. Times change. Splitting genders in two is against the natural flow of today's reality." Amen.
Signature look: Subversive prints and re-engineered denim.
Selfridges says: Take your lead from the brand's 'collective' concept (Vetements is designed by an anonymous group of designers, led by Demna Gvasalia) for maximum 'borrowing from your girlfriend/boyfriend/housemate' potential.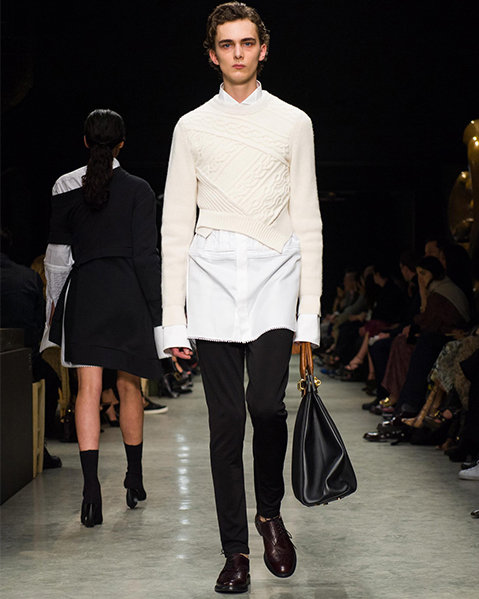 During a recent 'Today' programme interview on BBC Radio 4, former British 'Vogue' editor Alexandra Shulman was asked where she sees fashion heading in the next 100 years? "Years and years ago there was a programme called 'Tomorrow's World', and whenever they portrayed the future they had these kind of unisex costumes of men and women in boiler suits and actually, I think, probably, that kind of unisex style is where we're heading." Before you go digging out your old painting overalls, Shulman goes on to explain that while boiler suits may be a bit extreme, she believes that the continued blurring of gender lines is undoubtedly the future of fashion.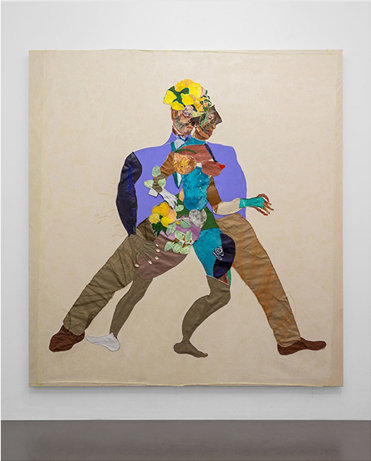 Schabalala Self, Mista & Mrs, 2016. Courtesy the artist and Thierry Goldberg, New York

Trigger: Gender as a Tool and a Weapon
In keeping with its tradition of tackling current topics and controversies, the New Museum, in New York, presents 'Trigger: Gender as a Tool and a Weapon' (opening on 27 September) – an evocative exploration of gender's place in contemporary art and culture that feels so right for now. Featuring work from more than 40 artists in different mediums and genres – from live lesbian soap opera to sculpture inspired by S&M fetish gear – the show has been tipped by 'The New Yorker' as one of this year's must-see exhibitions. A guaranteed talking point, should you find yourself Stateside this winter.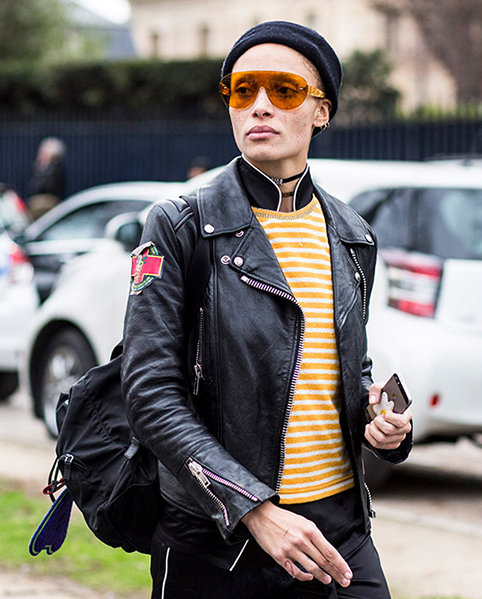 Adwoa Aboah at Paris Fashion Week

Breaking the classic fashion-week beauty mould, androgynous models like Adwoa Aboah (pictured), Binx Walton and Slick Woods are becoming something of a fashion obsession. With their low-slung Dickies and Carhartt gear, heads shaved or hair purposefully undone, and fearless, boundary-breaking attitudes, they represent fashion's broader shift to the mainstreaming of alternative aesthetics, proving that, in 2017, there's more than one way to be beautiful and cool. We'll be keeping our eyes peeled to see what they're wearing off the runway over fashion month.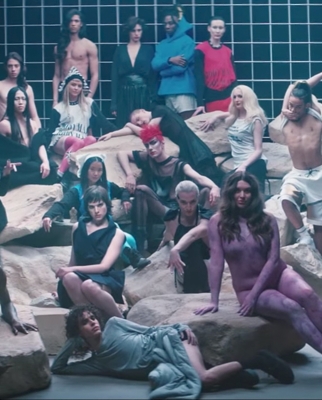 Music video for 'He She Me' by Devonté Hynes and Neneh Cherry, directed by Kathryn Ferguson

A lot has changed since we first launched the Agender campaign in 2015 - fashion has undergone a shift that has challenged binary notions of gender and celebrated an open, more fluid attitude to the ways we dress. If you missed it first time around, watch our campaign film, starring transgender actor and model Hari Nef with an exclusive soundtrack by Devonté Hynes and Neneh Cherry