Selfridges Meets: artist Kate Daudy
We sat down with London-based artist Kate Daudy – renowned for her wonderfully expressive felt installations – to find out about how the capital inspires her work, what makes the perfect gift and her invitation for us to all map out our own experiences with a unique work of art.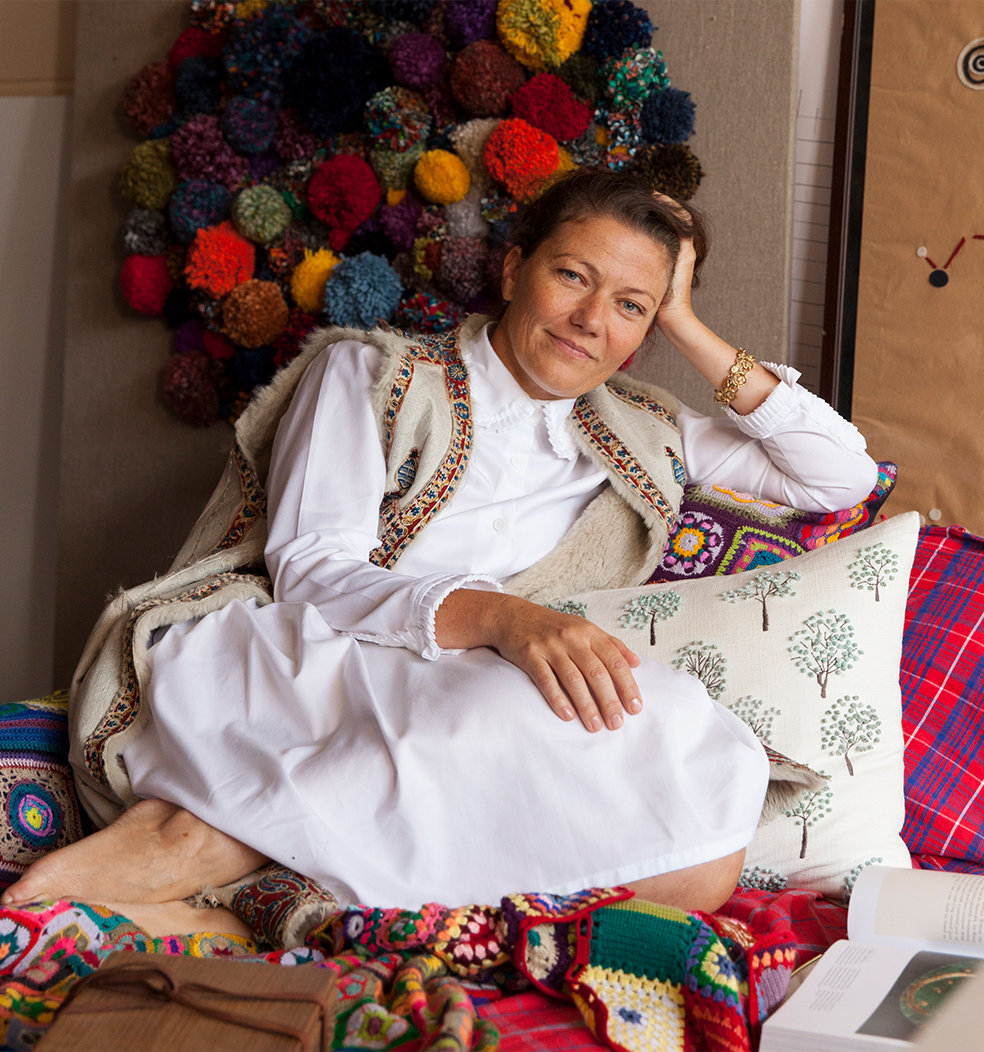 /Q/
As Selfridges celebrates the cities it calls home this Christmas, how does the concept of home influence your own work?
/A/
My work looks at home and identity through the medium of an ancient Chinese literary practice of writing on objects. Last year I spent some time in refugee camps as part of an art project about home and identity, and that influenced me profoundly: whole cities filled with refugees, that have grown overnight. This became my piece 'Am I My Brother's Keeper?', in which I inscribed the words of refugees from all over the world on a used refugee tent from the Zaatari camp in Jordan. With this work (which I created at The Old Selfridges Hotel) I wanted to convey a message of hope and shared humanity, which is at the core of all my work.
/Q/
The map of London you have created for Selfridges (pictured below) gives a vivid insight into your view of London – where did the inspiration come from?
/A/
I made this map for Selfridges just after the Grenfell Tower fire. I had a realisation that we have so much to do to make our city grow and flourish, particularly in terms of community. If someone was visiting London from somewhere else, this would be my way of showing them around London – it includes places, but memories too. The good and the bad. The crochet circles on the map were left over from my tent that was made by Syrian refugees. I wanted their work in my city of London too, as we are all connected.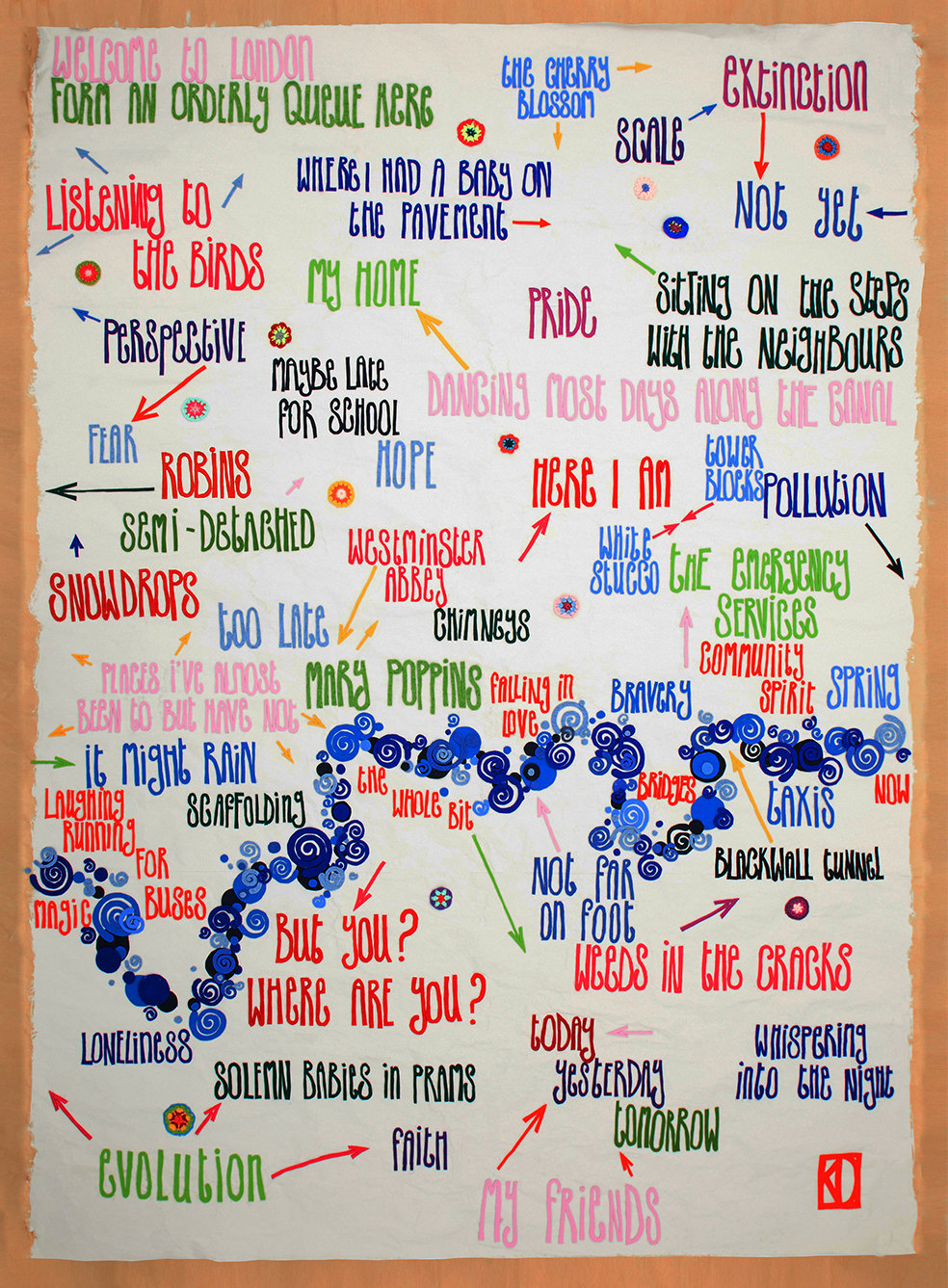 'London: The Place I Call Home', 2017 - a specially commissioned art piece for Selfridges
/Q/
What does the concept of 'the city' mean to you?
/A/
Hope – all these people coming together with the possibility of doing something great. The city, with its rich environment of people and architecture, strikes me as a magical invitation to participate. The city, and people's interactions inside it, must be one of the greatest art works ever.
/Q/
What do you love most about Christmas in London?
I like the children's carol concerts and plays, the decorations (the kitschier the better!) and the church service at Westminster Abbey on Christmas Day, which is also on my map. I really like at Christmas that a lot of people take action on thoughts that at other times of the year seem effortful and maybe even awful, like calling up some not-so-favourite relative, and really try to make a go of it.
The city, and people's interactions inside it, must be one of the greatest art works ever.
/Q/
How would you describe Selfridges' place in the city?
/A/
Not being much of a shopper, I used to associate Selfridges more with its patronage of the arts; the Barbara Kruger sale campaign and the great windows (as well as the best Cheddar cheese in London and the glossy yellow bags!) Of course, recently I have found myself getting to know the structure and people there quite well. Selfridges in itself IS a little city, with something like 4,000 people who work there, in Manchester and Birmingham too. You see people in Selfridges from all over the world interacting in one location that is a destination for them, not necessarily just for buying things.
I have been really blown away by the giant efforts Selfridges makes to serve its community, the environment and the arts. It is way more than a shop. If Selfridges was a person, it would be someone you were really pleased to see.
/Q/
Tell us how you would like us all to create our own map
/A/
I wanted to create a map that is participatory for the viewer, by giving away a template for customers to map their own city, bedroom, frame of mind, plans or experiences. I love this idea of documenting the boundless multiplicity of lives different people have, getting them involved in one another, opening up a bit, by sharing something personal. This is how we get to know one another. By sharing.
Sharing my own map of London is a bit of a one-way street, right? But inviting people to create their own map using the template I've created, to then share with someone they know, the work becomes a bit like a mixtape. It is saying: here I am, here is what I am like, what I am thinking about… Who are you?
Download your map template below, print, create and then share your artwork with #SelfridgesChristmas

Fill in the arrows on this map of possibilities as you will. You could show anything. An idea you're working on, your memories, how you feel today, a place you love, your bedroom, your home, or a combination of all of these.