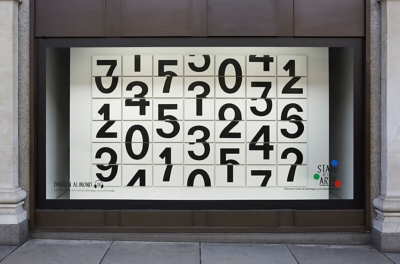 Using film, installation, sculpture and photography, the British artist explores the concept of time and personal and historical memory. His latest exhibition, 'Time Will Tell', is on at White Cube gallery until 20 January 2019. Darren's three Crossrail works for Bond Street station (co-sponsored by Selfridges) - 'Horizon Line', 'Train of Thought' and 'Timeline' - use numbers and words to reflect the hectic schedules of commuters while also offering a brief pause for contemplation.
"Before you've even physically begun a journey you are already thinking in a numerical language: the first question we all ask ourselves is, "What time is the train?" Darren Almond
Almond has created two installations for our iconic windows. This piece, 'Chance Encounter 004', consists of a grid formed from rectangular panels, featuring fragmented numbers that appear to scroll across the surface.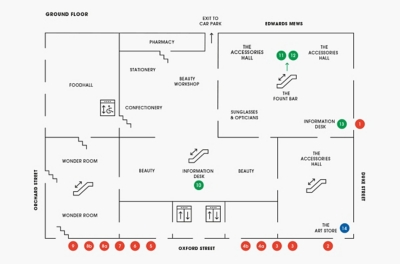 1 - Yayoi Kusama
2 - Spencer Finch
3 - Richard Wright
4a - Douglas Gordon
4b - Douglas Gordon
5 - Simon Pertion
6 - Chantal Joffe
7 - Michal Rovner
8a - Darren Almond
8b - Darren Almond
9 - Conrad Shawcross
10 - Eduardo Paolozzi
11 - Matthew Darbyshire
12 - Rebecca Ackroyd
13 - Art Block
14 - The Art Store