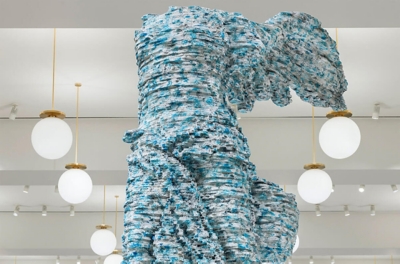 Matthew Darbyshire at The Art Block
Matthew Darbyshire's work for The Art Block features three figurative works for Selfridges that play with, subvert and interrogate familiar classical symbols. Observing that many worldwide brands' names derive from classical deities, Darbyshire has reinterpreted the traditional statuary of Nike, Hermes and Mars, mimicking the layering method typically seen in digital printing but using traditional crafting processes.
Please note: towards the end of March we will have a new art commission installed at The Art Block - come back soon to see!
The Art Block and our partnership with Yorkshire Sculpture Park
This installation marks the second in a series of collaborations curated in partnership with Helen Pheby, Senior Curator at Yorkshire Sculpture Park. Every six months, we display a new work at The Art Block – from new commissions to pieces borrowed from YSP's collection.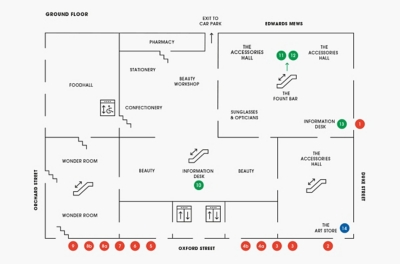 1 - Yayoi Kusama
2 - Spencer Finch
3 - Richard Wright
4a - Douglas Gordon
4b - Douglas Gordon
5 - Simon Pertion
6 - Chantal Joffe
7 - Michal Rovner
8a - Darren Almond
8b - Darren Almond
9 - Conrad Shawcross
10 - Eduardo Paolozzi
11 - Matthew Darbyshire
12 - Rebecca Ackroyd
13 - Art Block
14 - The Art Store