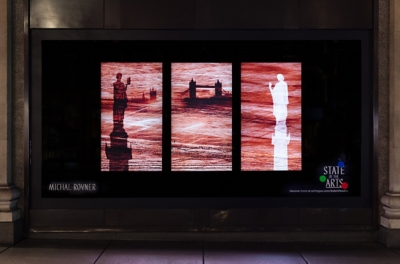 Working in video, sculpture, drawing and installation, the Israeli artist's work questions identity, place and the human condition. Her work for the Canary Wharf Crossrail station sees a large video screen with repeated rows of her characteristic silhouetted figures moving along different levels of horizontal and slanted lines.
"I hope that my work in this place, seen by millions of people, will remind them that the time that they take for granted, going from one place to another, and the space between is actually very meaningful." Michal Rovner
Featuring two large silhouettes rising above a London-esque landscape, Michal's video installation for Selfridges, 'Perspective', echoes her work at Canary Wharf station. The two sculptures, which seem like mythological female figures, allude to the sculptures that guard the entrance to the Selfridges building.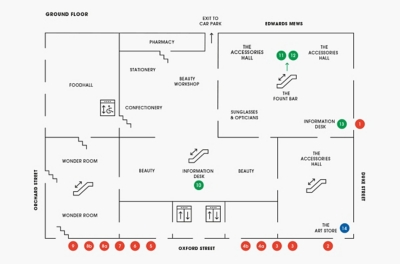 1 - Yayoi Kusama
2 - Spencer Finch
3 - Richard Wright
4a - Douglas Gordon
4b - Douglas Gordon
5 - Simon Pertion
6 - Chantal Joffe
7 - Michal Rovner
8a - Darren Almond
8b - Darren Almond
9 - Conrad Shawcross
10 - Eduardo Paolozzi
11 - Matthew Darbyshire
12 - Rebecca Ackroyd
13 - Art Block
14 - The Art Store