Women in The Arts: a celebration
As part of our State of The Arts campaign, we caught up with two thought-provoking female artists, Claire Pearce and Maja Djordjevic, to hear how their work explores female identity today. You can also visit their art pieces in store this month as part of our collaboration with SKIP Gallery at Selfridges London.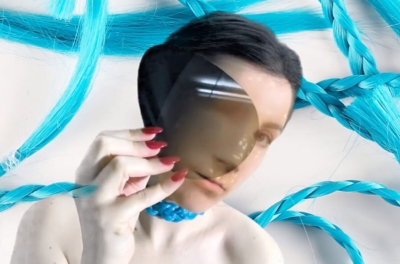 Claire Pearce
Award-winning artist Claire Pearce will take over a fitting room at Selfridges London, on our womenswear floor on 2, from 4 to 10 March. Her piece, 'Infernal Desires', transforms the fitting room into an interactive experience that investigates the role of space as a threshold between public and personal – think the 'fitting-room selfie'.
What is the message you hope to portray with Infernal Desires?
Infernal Desires is about fantasy, seduction, desire and guilt. The three-channel video installation has recurring motifs referencing Angela Carter's The Bloody Chamber. This is used as a narrative to explore an unquenchable curiosity to find something emotionally satisfying in a material world of excess.
Your work is often concerned with female identity and popular culture – what attracts you to these themes?
Female identity and popular culture are both spaces which I inhabit, contribute to, and am influenced by, but also at times resent and feel oppressed by. There are endless dualities and contradictions in these two fields – it is those points of conflict that create a tension that really interests me.
There are still some issues, but I think it's the best time it's ever been to be a woman in The Arts right now.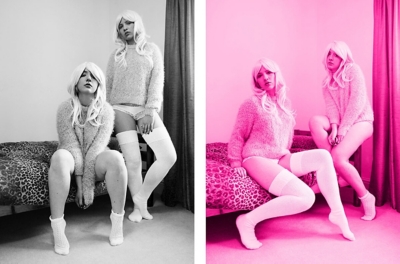 Which women have inspired your work?
My mum and my sister – both of whom I've previously involved in my work. Also, Angela Carter and Beyoncé.
What advice would you give to young women aspiring to be artists today?
There are still some issues, but I think it's the best time it's ever been to be a woman in The Arts right now. Being an artist can be very difficult though – to make it work requires diligence and absolute commitment to what you care about.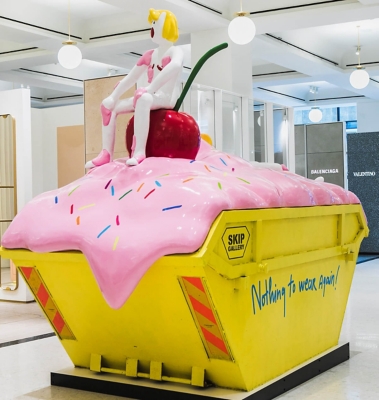 Maja Djordjevic

Maja Djordjevic's installation 'Nothing To Wear Again!', running from 4 to 17 March at the Skip Gallery in our Accessories Hall at Selfridges London, sees feminine power and the female gaze explored through Pixel Girl (her signature computer-doodle creation).

What message do you hope to portray with 'Nothing To Wear Again'?
I find it interesting that most women, myself included, in this kind of environment [the Selfridges store] have the feeling that they are missing 'that one thing' in their wardrobes. This is why I placed my two naked girls in the skip on a pile of ice cream with a cherry on top – they're sad because they have nothing to wear.
Where did the concept for Pixel Girl come from?
I think childhood is at the root of the idea. We would draw naked people secretly because we were ashamed, and the easiest way to delete a drawing was in Microsoft Paint. No one would ever know what you did. I think that this childish joke of mine persisted, except that today I don't have an issue with publicly displaying my work.
I am glad that every woman can find herself in my art.

Would you describe your work as feminist?
The protagonist of my paintings is a naked girl. She is always vocal, piercing and in a rush, so with her female character I express the battle against myself and the path towards achieving ideals, goals and fundamental happiness. I am glad that every woman can find herself in my art.
What women have inspired your work?
I source the inspiration for my work from the people that surround me. This way, I discover messages that are often surprising to me. I must admit that at times other people's interpretation of my work is more interesting and brutal than my own. In fact, all women and every situation contribute to my work.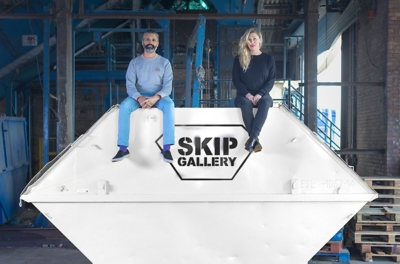 SKIP Gallery – the brainchild of artistic duo Baker and Borowski – offers an unusual gallery experience, where different artists transform a skip with their work. The latest collaboration with Selfridges 'Like it or Lump it' (running from 4 to 31 March) reveals bold, mischievous and timely artworks that challenge notions of identity, gender, authenticity and cultural history.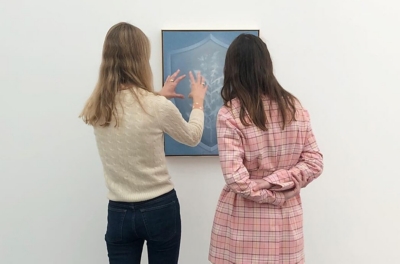 Five more female artist fixes
Whether it's a curation of female artists from the brains behind our Selfridges art tour or the best female illustrators out there right now, here's who to watch and how to follow them.
1. The Great Women Artists (@thegreatwomenartists)
Created by Katy Hessel, a curator and writer who celebrates women in art. Listen to her audio art tour at Selfridges London here.
2. Polly Nor (@pollynor)
Illustrator, known for her relatable (if a little dark) drawings of women and their demons.
3. Guerrilla Girls (@guerrillagirls)
Feminist artist activists using facts, humour and outrageous images to expose sexism, racism and corruption in art.
4. Laura Callaghan (@lauracallaghanillustration)
Illustrator specialising in everyday women doing everyday things in vibrant colour.
5. Charlotte Edey (@edey_)
Artist and illustrator using print and tapestry to explore identity and the politics of space within feminine and unnatural scenes.