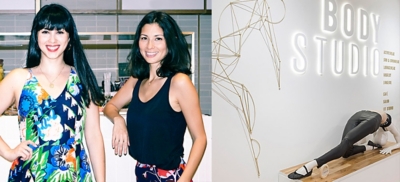 Self Discoveries: five things you won't want to miss at Selfridges this week
Welcome to Self Discoveries – a weekly round-up of our favourite happenings across Selfridges' four stores. From our new and improved Body Studio to eating Aussie style, we've got a whole lot going on. Get involved…
The Body Studio gets a shake-up – Selfridges London
Our brilliant Body Studio (aka the best destination for all things body – think lingerie, workout clothes, lounge and sleepwear) is now officially better than ever. The space has been expanded (by 62 per cent, to be precise), with new brands Lululemon, Bodyism x Emilia Wickstead, L'urv, State of Escape and many more joining the Selfridges family. And our favourite new bit? The Courtyard – a 550 sq ft outdoor art installation space (viewed from the windows of the Body Studio) where we'll be showcasing incredible pieces of art against an industrial backdrop of pipes and steel ladders. We've commissioned artist Rebecca Ackroyd to kick things off, with a respiratory-inspired piece specifically created for the space. Definitely worth a visit, we think.
Selfridges x Lovers F.C – Selfridges Manchester Trafford & Selfridges London
Counting down the days until the World Cup? Yep, us too. Which is why we're teaming up with football shirt fanatic and collector Neal Heard (founder of Lover's F.C) for a pop-up in our London and Manchester Trafford stores. Swing by from 10 June and see Heard's collection of archive football shirts up close, and then pick up a great football shirt of your own. All together now: "Three lions on a shirt…"
Eating well with the Hemsleys – Selfridges London
Love the Hemsley sisters and their take on wellbeing-boosting food? Then come and enjoy delicious seasonal recipes and cocktails whipped up by Jasmine and Melissa themselves as they host an intimate supper club in the Hemsley + Hemsley café at Selfridges London. Expect great food, good company and inspiring chats. Sounds good, right?
Start me up – Selfridges London, Birmingham, Manchester Trafford and Exchange
If you weren't lucky enough to get hold of a ticket to the Rolling Stones' No Filter tour (you can't always get what you want, right?), then we've got the next best thing for you. The rockers have set up shop in Selfridges, giving you the chance to get your hands on limited-edition merch and exclusive collectible items (Rolling Stones pool table, anyone?). You only have until 3 June to shop the collection here or in store, so get your satisfaction now while you still can.
Eat like an Aussie – Selfridges London
Our Foodhall's going Down Under from 4 June as we shine a well-deserved spotlight on Australian foods and flavours. From brunching (nobody brunches like the Aussies – they gave us 'smashed avo on toast', after all), to barbies, to Tim Tam-topped cupcakes, it's time to enjoy the summer, Aussie style. Dig in mate.