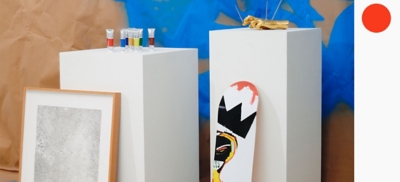 The Art Store & Art Tank events at Selfridges London
Bringing together works from world-renowned galleries, including White Cube, Yorkshire Sculpture Park and Gagosian, the Selfridges Corner Shop on G at Selfridges London is becoming The Art Store.
Shop limited art pieces (Kusama pumpkin or a neon work from Douglas Gordon, anyone?) and an amazing selection of art materials (thanks Cass Art) in store or right here.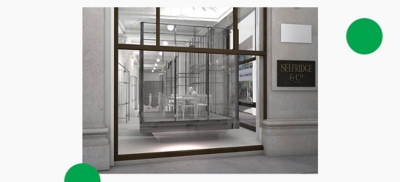 Art happenings in The Art Tank
The Art Tank, placed in the window of The Corner Shop at Selfridges London, will host a series of amazing one-off art happenings that are open to all. From a live piece hosted by Michèle Lamy and Paul Kooiker to portrait sessions with Alexandria Coe and Wilfrid Wood – expect the unexpected.
THIS WEEK IN THE ART TANK:
Tuesday 22 February, 9.30am – 9.00pm
'Matt White Emotion': a live happening by Emma Gibson
Emma Gibson is creating an unlimited edition artwork, 'Matt White Emotion', for The Art Store as well as an extension of this concept in the form of a happening in The Art Tank. During the day, a painter and a cleaner simultaneously coat and clean the interior of the Tank with whitewash and clean water. They move around the inside, at opposite points of the structure, working to coverup and remove the work of the other, but never coming into contact themselves. For the duration of the happening, The Art Tank itself will be in constant flux between opaque and transparent.
Wednesday 23 February

'On Press' Hato Press drop-in sessions and print workshops with:
Pio Abad (10am – 12pm), Erchen Chang (1pm – 3pm) & John Booth (3pm – 5pm)
Printing and Publishing house Hato Press will take over the space to present an insight into the relationship between artist and printer with a series of presentations, drop-in sessions and print making workshops. Hato is thought of as an autonomous experimental space to encourage collaborators to develop ideas and facilitate both the production and distribution of new content.
Thursday 24 February
Try out art materials from Cass Art in The Art Tank
Friday 25 & Saturday 26 January
Plasticine portrait sessions with Wilfrid Wood.
Wilfrid Woods will host plasticine workshops in which guests will make a portrait head out of plasticine. It could be a self-portrait, someone you know, a famous person or your dog. You can take your portrait home or squash it up and make another. All materials provided.
Sunday 27 January
'A Design Solution for a Public Sculpture' by Matthew Darbyshire.
Matthew Darbyshire, whose work is currently on display at The Art Block in our Accessories Hall, will create a piece of public sculpture within The Art Tank, which responds to the nature of the space and his own artistic practice.