Mr Lyan
White Lyan in Hoxton, East London is shaking up the world of mixology one cocktail at a time. Founder and award-winning bartender, Ryan Chetiyawardana (Mr Lyan), creates innovative drinks with unusual ingredients that can be tailored to different moods and occasions.
In conversation with
Award-winning mixologist Ryan Chetiyawardana.
What made you want to become a mixologist?
I wanted to work with food and drink and to explore flavour but with the ability to be social. I really was looking for an outlet that included my interests and background in both the arts and sciences, and the world of cocktails allowed that.
Why did you decide to not use perishable ingredients or ice at White Lyan?
By stripping everything right back it allowed us to control every element and to put forward a product we were 100% happy with - much like in a kitchen. I also wanted to show that just because the industry is ancient, that doesn't mean there is no room for innovation or to challenge the status quo.
Do you think pre-batched cocktails are the future for bars?
For some they can form an interesting addition. If it's done with care and attention it has a great number of benefits - control, consistency and the ability to look after your guests more.
Get acquainted with Mr Lyan at our rooftop restaurant, On The Roof with Q, from 7 to 13 July for a week of exclusive menu specials and cocktail events.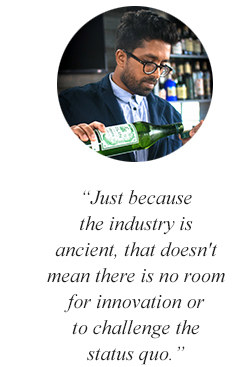 ---
The Selfridges
Summer Cup
Selfridges Select Port, Mr Lyan Gin, hay, Selfridges Afternoon tea and english morello cherry.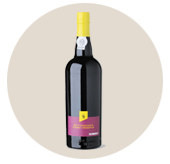 Add to a shaker:
50ml Selfridges Selection Finest Port
20ml London Dry Gin
1 teaspoon Selfridges Selection Afternoon Tea
2 teaspoons Selfridges Selection Morello Cherry Jam
1 pinch hay
Stir until jam is dissolved then shake with ice. Fine strain into a chilled hi-ball glass over ice and then top with soda. Garnish with cucumber, mint and a strawberry.
the window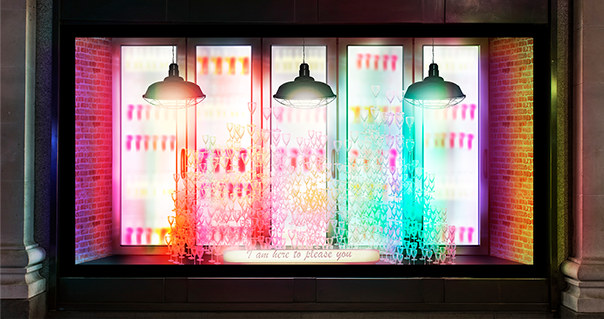 Each of our world-famous Oxford Street windows has been brought to life by our artisan producers, creators and food artists.
Camden Town Brewery
It started at the Horseshoe in Hampstead, North London, where Jasper Cuppaidge brewed beneath the pub. From there, he started Camden Town Brewery with the aim of making lager better. Since 2010 the brewery has been championing the use of modern techniques to help bring great lager to a new generation of
beer enthusiasts.
In conversation with
Jasper Cuppaidge, founder of Camden Town Brewery
What makes Camden Town Brewery different to its counterparts?
We've always focused – quite single-mindedly – on making a small range of beers and making them as well as we can. We work tirelessly on making Hells Lager right. Even though we brew it 28 times a week, we are always monitoring it and improving it little steps at a time. The aim is to make beer better for everyone.
Do you think modern brewing technology is a help or a hindrance to the quality of beer?
Definitely a huge help – modern technology facilitates the rigorous quality control needed to make
great beer.
Why do you think craft beers are having such a big revival?
The beer world is changing. People are tired of the mass market and want to drink the best beer they can get their hands on. The new scene is on fire, and the collaborations and energy between the new brewers is really driving the UK scene again.
Join Camden Town Brewery on 23 July as they create London's first rooftop micro-brewery at Selfridges London. Head up to On The Roof With Q from 1-6pm to see the brewing in action. Join us from 6-8pm to taste the two Pale Ales brewed earlier this month in the same lofty location - one seasoned with Chilli and one with Sage, Rosemary and Juniper berries.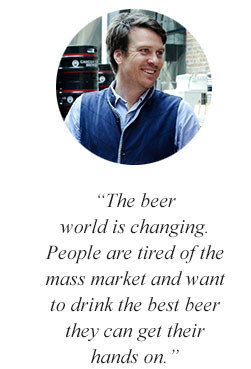 ---
Our Top 5 Camden
Town Brewery Beers
Hells Lager
Clean and refreshing with
a dry hop finish.
USA Hells Lager
Pithy bitterness and
amazing hop freshness.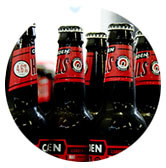 Pale Ale
Citrus and tropical fruit aromas.
A round bodied brew.
Gentleman's Wit
Fragrant lemon and bergamot,
with a smooth and spicy finish.
Ink Stout
Black, creamy foam, loaded with
bitter dark chocolate and dark fruits.
the window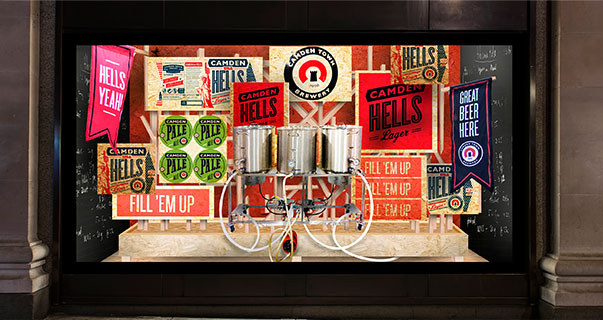 Each of our world-famous Oxford Street windows has been brought to life by our artisan producers, creators and food artists.
FABRIQUE
Time is precious at Fabrique. Each loaf is made with ample time and artisanal methods to allow for the mouthwatering tastes of handmade bread to develop. Fabrique's signature bread is its sourdough, which is stone-baked in a traditional oven. Founded in Stockholm, Fabrique has now opened its first UK bakery in Hoxton, East London.
In conversation with
Charlotta Zetterström, co-founder of Fabrique
How did Fabrique start out?
My partner David and I realised that many people have never experienced what real bread can taste like. That's why we started Fabrique. We wanted to provide a distinctive alternative to factory-baked products.
Do traditional bread making methods really make a difference?
Yes, you can't even compare artisanal bread with mass-produced bread. We know that when you speed up the baking process, the bread becomes less good to eat and less nourishing. Once you have tasted 'real bread' it's hard to go back.
There seems to be a trend for reviving artisanal cooking and baking methods - why do you think
this is?
People are becoming more aware that preservatives and additives are bad for you and that traditional methods, used for thousands of years, result in great tastes and more health benefits. I think the food revolution is here to stay.
Fabrique's artisan breads are available to buy at Selfridges London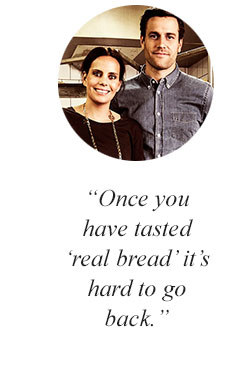 ---
the window
Each of our world-famous Oxford Street windows has been brought to life by our artisan producers, creators and food artists.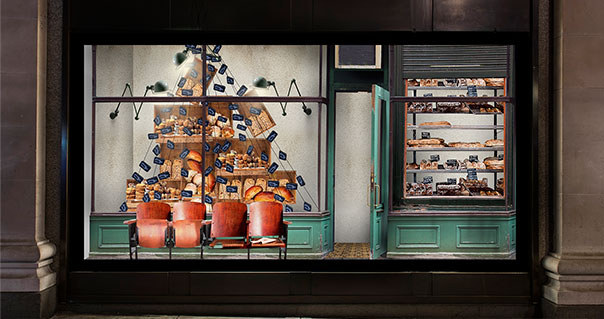 ---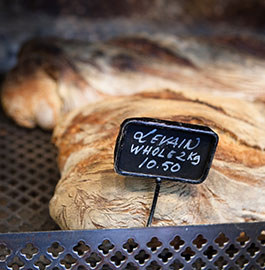 FABRIQUE'S SIGNATURE
LEVAIN RECIPE
A beautiful sourdough recipe for two loaves
- be sure to use the finest organic flour.
Dough
500ml water
940g organic wheat flour
625g wheat sourdough
31g seasalt
total: 2110g of dough
Mix everything together for about a minute and then rest for 30 minutes. Mix again for 5 minutes and put somewhere warm for one hour. Knead and then leave to rest for another 30 minutes. Put in the oven for approx 25 minutes on 260 degrees celsius. Remove, cool and then enjoy.
GRINGA DAIRY
Having had enough of her corporate career, Kristen Schnepp headed to the railway arches of Peckham, London to start creating traditional Mexican cheeses. From deliciously crumbly Queso Fresco to mozzarella-like Queso Oaxaca, each cheese is made using artisan methods and organic British milk.
In conversation with
Kristen Schnepp, founder of Gringa Dairy
What inspired your career change?
It was time to do something different, that I really wanted to do. I had a wonderful career, but it was more than time for a new challenge.
Why Mexican cheese?
I grew up in the Central Valley of California and Mexican culture is dominant in the area. When I started thinking about becoming a cheese maker, my mantra was "no one needs another cheddar". So, I started thinking about what people did want that they could not get. What was clearly missing was Mexican dairy products, so I thought, "why not me?".
Why is using British milk so important to you?
Cheese is 99% milk so it is important to get the best milk possible and know as much as you possibly can about it. However, even if this was not the case, it would be important to me to use British milk because it is important to support British farmers and to make my food as sustainable as possible.
Get acquainted with Gringa Dairy at our rooftop restaurant, On The Roof with Q, from 14 to 20 July for a week of exclusive menu specials and live cheese-making.
Gringa Dairy's organic Mexican cheeses are available to buy at Selfridges London.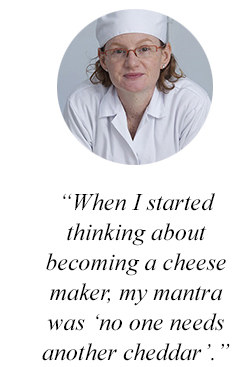 ---
the window
Each of our world-famous Oxford Street windows has been brought to life by our artisan producers, creators and food artists.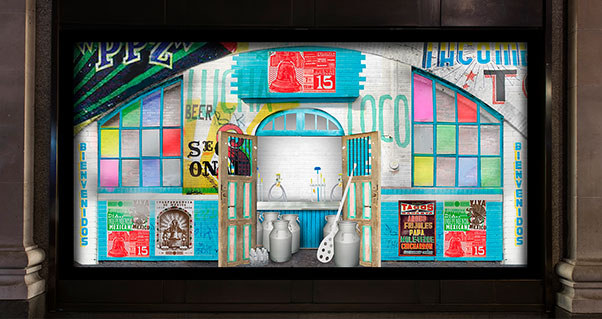 ---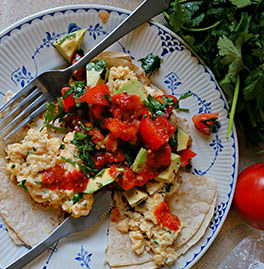 Huevos NorteÑos
(Eggs 'Northern Style')
A flavoursome Mexican breakfast recipe including Queso Fresco - a firm and slightly salty cheese.
250g, Gringa Dairy Queso Fresco, crumbled
8 tortillas
300g cooked ham, cut in small cubes or julienned
8 medium eggs
165g of salsa
Optional: chopped avocados, Serrano chillies and fresh coriander.
Using a dry skillet or frying pan over medium-high heat, place tortilla in pan and sprinkle with a quarter of cheese and a quarter of the ham then place another tortilla on top. Cook for 2 minutes or until light golden brown on the bottom. Flip and cook the same on the other side.
Cook eggs to your preference then top the tortillas with eggs and salsa, adding as many of the optional treats as you have to hand!
Serves 4, just half ingredients for 2.
MERINGUE GIRLS
The Meringue Girls (AKA Alex and Stacey) are two trained chefs who are united by their obsession with all things sweet. Armed with their mountainous meringues and bite size 'kisses', the Meringue Girls love to throw a party and have provided their on-trend treats for top magazine and fashion brand events.
In conversation with
Alex Hoffler & Stacey O'Gorman, Meringue Girls
Why meringues?
Cupcakes, cake pops and macarons have had their day - now is the age of the meringue! We pride ourselves on a Willy Wonka-esque creative flair, which means our flavour possibilities are endless. We have gin and tonic, a sweet and salty popcorn and an espresso martini meringue. Delish! We also keep our meringues bang on trend by following the colour and flavour palettes of the season.
What is the highlight of your career so far?
Our cookbook deals, opening up our very own bakery in Broadway Market, Hackney and working with heaps of amazing clients such as Vogue, Jimmy Choo, Topshop, Jamie Oliver, Stella McCartney and Elizabeth Arden. Getting our very own Selfridges window has to be a big highlight too!
What makes a great party?
Delicious treats, glitter, rainbow balloons, banging tunes and dancing on the tables.
Get acquainted with the Meringue Girls at our rooftop restaurant, On The Roof with Q, from 11 to 17 August for a week of exclusive menu specials and afternoon tea parties with a twist.
Meringue Girl's signature sweet treats are available to buy at Selfridges London.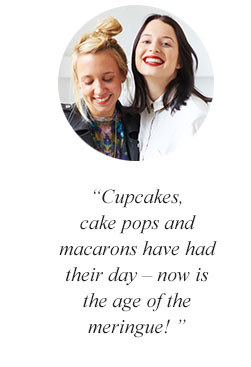 ---
the window
Each of our world-famous Oxford Street windows has been brought to life by our artisan producers, creators and food artists.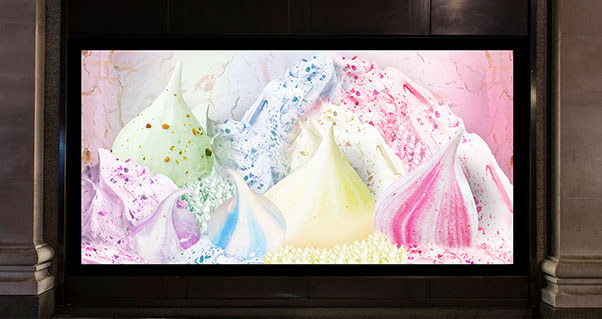 ---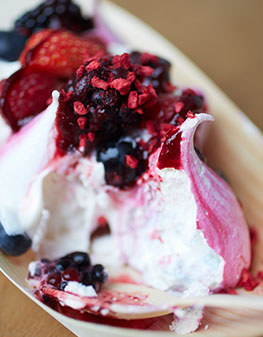 Meringue Girls
Raspberry Kisses
Makes approx 30 kisses
200g caster sugar
100g Two Chicks free-range liquid
egg whites (3-4 eggs)
10g of freeze-dried raspberries
Preheat the oven to 200C.
Line a small baking tray with baking parchment.
Pour in the caster sugar and heat it in the oven until the sugar is just beginning to melt at
the edges.
Pour the egg whites into a mixer and whisk them slowly, allowing small bubbles to form, then increase the speed until the egg whites form stiff peaks.Take the sugar out of the oven, and turn it down to 100C.
With your mixer on full speed, slowly spoon the hot sugar into the beaten egg whites, making sure the mixture comes back up to stiff peaks after each addition. Once added, continue to whisk on full speed until you have a smooth, stiff and glossy mixture. Gently fold through your freeze dried raspberries.
To colour your meringue kisses, turn a disposable piping bag inside out, and paint 5 thick stripes of natural pink food colouring down the tip, then fill the bag with your meringue mixture. Line a baking tray, and cut a 20p size hole in the tip of the bag. To pipe, squeeze the bag firmly to form lovely kisses. Bake at 100C for 30-40 mins until the meringue comes off the baking paper cleanly.
Devour!
CANNON & CANNON
Sean Cannon runs Cannon & Cannon, a family business started in North Norfolk which champions British charcuterie. Sean develops and promotes artisan charcuterie made from British beef, boar and even alpaca, which is sourced from a close-knit group of trusted suppliers. For flavoursome charcuterie there's no need to look to the Continent - Cannon & Cannon is right here.
In conversation with
Founder of Cannon & Cannon, Sean Cannon
Why should people be excited by British charcuterie?
We know how to raise livestock in the UK, largely due to our love and respect for our four-legged friends. Good and carefully raised livestock means high quality and tasty meat. Charcuterie is the greatest celebration of quality meat and we believe British meat is the best in the world.
If you had to choose, which product is your favourite?
If you had to choose, which product is your favourite? Right now, for me, it's all about the Gloucestershire venison salami with long pepper. Made by Native Breeds Charcuterie, it matches a rich venison flavour with the aromatic kick of long pepper.
How labour intensive is creating charcuterie?
In a word, massively. It is a labour of love. All of our producers work with their hands, tying each sausage and hand curing each muscle. You cannot make charcuterie without a deep passion for the art and an unshakeable dedication.
Get acquainted with Cannon & Cannon at our rooftop restaurant, On The Roof with Q, from 30 June to 6 July for a week of exclusive menu specials and events.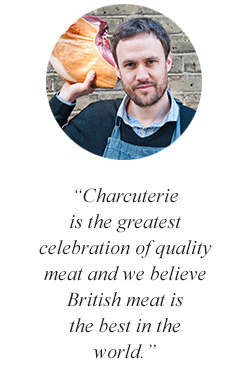 ---
the window
Each of our world-famous Oxford Street windows has been brought to life by our artisan producers, creators and food artists.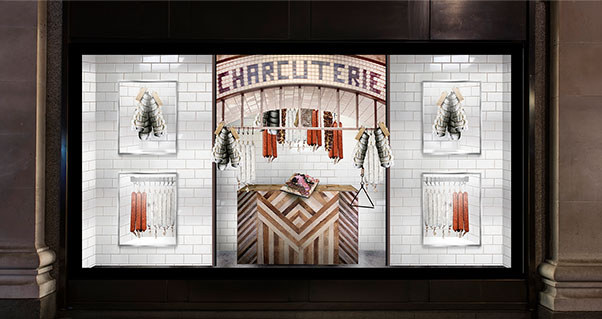 ---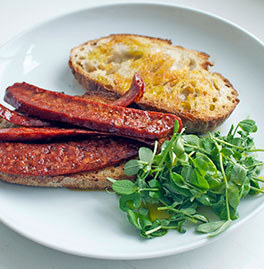 Grilled Suffolk Chorizo
with Sourdough
A simple recipe, but one that continues to wow the customers at Cannon & Cannon's restaurant.
1 Suffolk chorizo
A drizzle of good oil
Sourdough bread
Serves 1 hungry person as a starter.
Turn your grill to a high setting. Place your Suffolk chorizo in a grill-friendly pot with sides. Drizzle over a little oil and place under the grill. The sausage will blister and split in places and even start to blacken – let it happen. After 3 minutes or so, turn it and replace. When you remove it from the grill there will be a pool of hot and smoky red oil around the sausage. Take two thick hunks of sourdough bread and lay them in the pot with the chorizo. Tear the bread, dip it into the oil and eat it with chunks of the grilled chorizo.
CAMBRIDGE DISTILLERY
The Cambridge Distillery team comprises of Master Distiller Will Lowe, his wife Lucy, and their Labrador, Darcy. They distil botanicals they have grown in their garden and foraged for in local fields to create strictly limited volumes of the UK's first seasonal gin: Cambridge Gin. Delicious, unique and abound with British eccentricity, this is the pinnacle of the 21st century gin renaissance.
In conversation with
Will & Lucy Lowe, founders of Cambridge Distillery
What inspired you to create a gin distillery?
It was a decision we made, as with all the best decisions, during a dog walk. We were inspired by our constantly changing surroundings and wanted to capture their essence in alcoholic form.
Cambridge is obviously a big part of your brand – does the city influence your products in any way?
The city and the surrounding countryside are both our inspiration and our workshop. We make our seasonal Cambridge Gins to reflect the place and the season in which they grow. We've both grown up here, so Cambridge is very important to us.
How did gin shed its stuffy image?
Innovation. There's a new breed of distillers with a pioneering approach: how can you not be excited by an infinite possibility of flavours?
Get acquainted with Cambridge Distillery at our rooftop restaurant, On The Roof with Q, from 28 July to 3 August for a week of exclusive menu specials and events.



---
Cambridge Distillery's
Tokyo High Tea
Cocktail
London meets Tokyo in a glass.
The Japanese Gin is exclusive to Selfridges and includes tasting notes of yuzu leaf, shiso leaf and sesame seeds.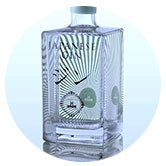 50ml Cambridge Distillery Japanese Gin
Juice of ½ a lime
¼ apple, diced
⅛ cucumber, diced
Half teaspoon of sugar
Shake all ingredients over ice, then serve over crushed ice and garnish with a slice of apple. For a longer drink, simply top with soda water.
the window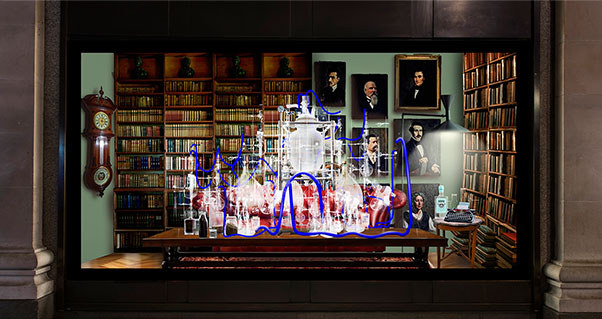 Each of our world-famous Oxford Street windows has been brought to life by our artisan producers, creators and food artists.
FERNANDO LAPOSSE
London-based artist Fernando Laposse transforms sugar into a supremely creative medium that plays on all the senses. By using sugar as if it were molten glass, Laposse creates dramatic installations and beautiful items that blend the worlds of gastronomy and art.
In conversation with
Fernando Laposse, Artist
What inspired you to work with sugar?
I started working with sugar out of the frustration of not being able to work with glass. Sugar was used as fake glass in movies and that is what inspired me to start blowing sugar like glass.
Could you talk to us about the sugar glasses you created?
My sugar glasses are done with a rotomoulding technique where I spin molten sugar until it cools down, making a thin coat which becomes the walls of the glasses. The idea is to serve bitter cocktails in them, and as you swirl the liquid inside the glass your drink becomes sweeter.
What is sugar like to work with as an art medium?
Sugar is a great material to work with as it is very versatile. On the other hand, it is very temperamental. The thing with sugar is that it is very short lived, this is something that can be both frustrating and at the same poetic. It is said food is the most ephemeral sort of art.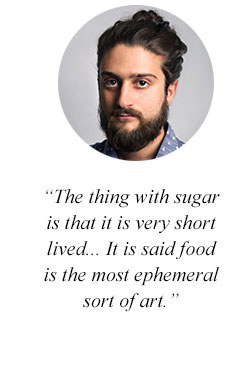 ---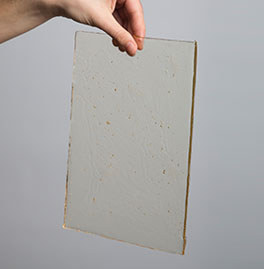 Sugar glass
window pane recipe
Line a square shallow tray with baking paper.
Heat white sugar in water until 143C. If you don't have a candy thermometer you can gauge the temperature by periodically dropping a bit of sugar into a glass with water.
You will be around the right temperature when the sugar curls into a hard ball that cracks when you force it with your fingers.
Pour the hot sugar and let it cool.
Demould.
Please note that this recipe is for adults only and molten sugar can cause serious burns.
ORIGIN COFFEE
Origin Coffee is a young, vibrant coffee roaster founded by Tom Sobey and based in Cornwall. The team prides itself on sourcing traceable, seasonal and sustainable speciality coffees and developing relationships between growers and baristas. This is coffee-making turned into a fine art.
In conversation with
Tom Sobey, founder of Origin Coffee
How does Origin Coffee differ from other coffee roasters?
We trade direct with farmers and growers across the world, building face-to-face relationships. The farms that we trade with receive a guaranteed 30% above the cost of production.
Why is it important for you to have strong connections with your suppliers?
The face-to-face relationship with the growers means we and our trusted partners have visited the farms and have chosen to work with only those who share our passion for great coffee.
How do you think British people have changed their coffee drinking habits in the last 20 years?
The biggest trend has been the growth of the speciality coffee industry and the roasting of green coffee in the UK. At the same time, people now recognise the need to trade sustainably across the world. Freshly roasted coffee, ground and brewed at home, is becoming the norm – instant coffee is a thing of the past.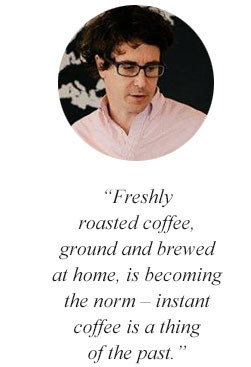 ---
The Perfect Origin
Coffee Flat White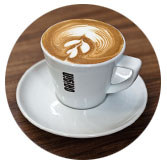 Make with a double shot of seasonal espresso, freshly ground. Steam full fat locally sourced milk from your farm of choice and pour it over the espresso in a 7oz cup.
For the perfect finishing touch, learn latte art at one of Origin Coffee's latte art training sessions.
the window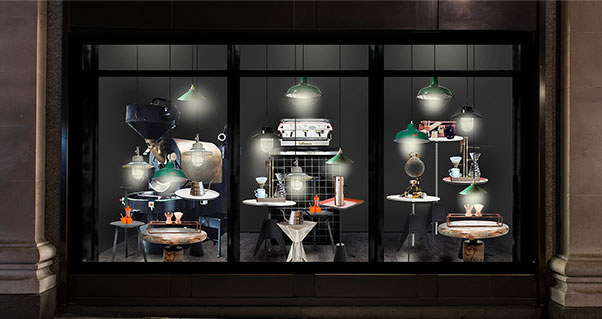 Each of our world-famous Oxford Street windows has been brought to life by our artisan producers, creators and food artists.
GIRL MEETS BUG
Daniella Martin is on a quest to show us how bugs offer a tasty, sustainable and environmentally efficient alternative to meat and fish proteins. On her Girl Meets Bug blog, Daniella serves up delicious grub such as Waxworm Tacos to inspire would-be bug-eaters to get creative in the kitchen.
In conversation with
Daniella Martin, founder of Girl Meets Bug
How would eating more bugs and less meat help the planet?
Bugs require far fewer natural resources to produce the same amount of protein as other forms of livestock. They need far less land space, less water, less food and they produce less GHG-causing emissions.
Do insects actually taste good?
Yes! I've seen camera people make laps around a studio to revisit the bowl of crunchy bugs and kids elbow each other out of the way for one more bite of sautéed larva. Insects typically taste nutty, with hints of mushroom or shrimp - all flavour profiles people tend to like.
What do you think it will take for people to start eating insects?
Exposure. Seeing it on store shelves helps reassure them that it's safe. Hearing that their friends are doing it helps them feel it's socially accepted. I don't think it's just one thing that will make a difference, though perhaps one uber-popular product could do it.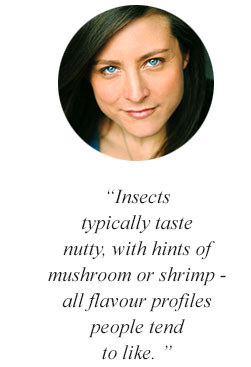 ---
the window
Each of our world-famous Oxford Street windows has been brought to life by our artisan producers, creators and food artists.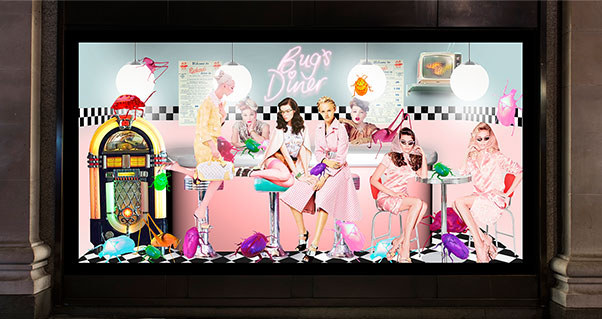 ---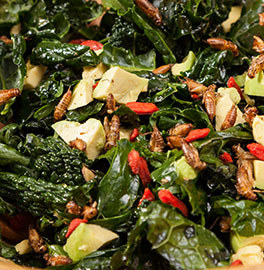 Cricketty Kale Salad
1 bunch of kale
½ avocado
½ cup cranberries
¼ cup olive oil
Juice of ½ lemon
Salt, garlic salt, chipotle powder
Pine nuts (optional)
Cricket topping
¾ cup crickets
1 clove garlic, crushed
1 tsp olive oil
Heat oven to 170C. Toss rinsed, thawed crickets in a bowl with crushed garlic and dash of salt. Spread crickets evenly out on a greased baking sheet. Bake for 5-10 minutes, turning occasionally.
Chop rinsed kale into small pieces and place in a large salad bowl. Pour olive oil over leaves, then gently 'massage' the oil into the leaves.
Add the lemon juice and sprinkle on a dash of salt, garlic salt, and chipotle powder. Top with chopped avocado, cranberries, garlicky crickets and optional pine nuts.
SCOTT HOVE
Los Angeles-based artist Scott Hove creates dramatic installations using unexpected materials. His overtly decorative cake installations evoke the kitsch and nostalgia of traditional cake decorating, contrasted with unexpected ingredients, for environments that astound, surprise and inspire.
In conversation with
Scott Hove, Artist
How do you create an installation like your Selfridges window?
For my installations I use the old theatrical trick of positioning mirrors to create a sense of generous space, then go as lavish as I can with the cake decorating, flowers and chandeliers. I want to create a jewel-box place where one would feel safe and inspired, but also on guard against the unexpected.
Why did you choose cake as an artistic medium?
I love the very personal, emotional response most people have with cake. It is a good way to start a conversation and make viewers feel comfortable. Once the comfort is established, I can introduce
ingredients that will challenge the comfort, and create a dynamic situation that is beautiful but that also really wakes you up.
What's your favourite cake to eat?
Any cake that can deliver a feeling of creamy coolness, not too sweet... contrasted with tart berries on fluffy baked pastry. Also, if it is expertly decorated, the experience of eating becomes much more special.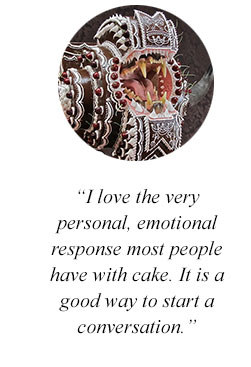 ---
FROM PALATE
TO PALETTE:
OUR TOP 5 FOOD
ARTISTS
Jennifer Rubell
Contemporary New York artist known for her edible installations.
Wolfgang Tillmans
Renowned photographer who revels in the chaotic look of a dinner table post-feast.
Sarah Lucas
Daring and playful Young British Artist who created 'Two Fried Eggs & A Kebab'.
Joseph Beuys
Performance artist and sculptor who used chocolate, sausages and butter in his work.
Wolfgang Laib
German artist who uses rice, milk and pollen in his installations.
the window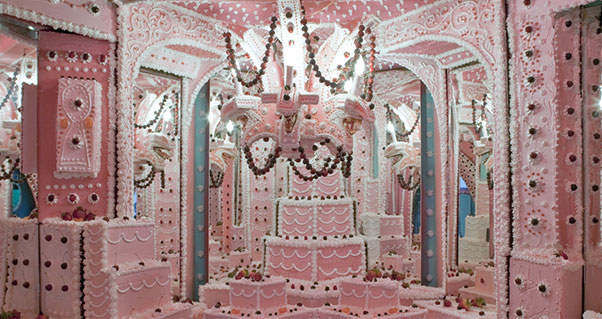 Each of our world-famous Oxford Street windows has been brought to life by our artisan producers, creators and food artists.
WAYWARD PLANTS
Wayward Plants is a London-based landscape and architecture practice - an award-winning collective of designers, artists and urban growers. Working internationally across the fields of design, architecture and botany, their acclaimed spaces include the Urban Physic Garden, the Queen's Walk Window Gardens and
the new entrance to Borough Market.
In conversation with
The Wayward Plants Team
What are the main aims of Wayward Plants?
Wayward Plants takes a unique approach to landscape through the creation of narrative environments. Our projects tell stories, connecting people through nature, and we produce vibrant spaces which are productive, meaningful and imaginative. Our work spans from urban gardens to playgrounds to large-scale public spaces.
Do you think it's important that people have a closer connection to the fruit and vegetables they eat?
Absolutely. From working with schools we've found that when we ask children where their food comes from they, invariably, draw a car, a supermarket or a chip shop. By facilitating the connection between growing and eating, not only can we shift people's relationship to their food but also to their environs, facilitating healthier and more environmentally-conscious choices.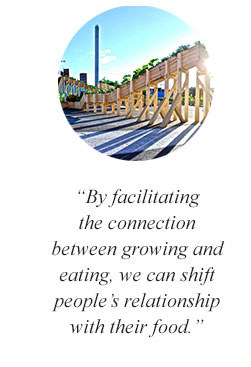 ---
Describe your
perfect garden
We find such an ideal in those urban gardens which reflect the stories belonging to the communities who build and care for them. Gardens truly grown by neighbourhoods with local people nurturing and donating plants to create spaces that mean something to them.
From the very start, Wayward Plants has always seen narratives as integral to gardens that people want to visit. We eschew the traditional model of the garden as a static feature that simply exists to highlight the importance of a building. In fact, while our gardens are architecturally designed, we fill them with sustainable innovations and through our designs help them function as social and event spaces, as well as creative platforms, facilitating participation, collaboration and experimentation.