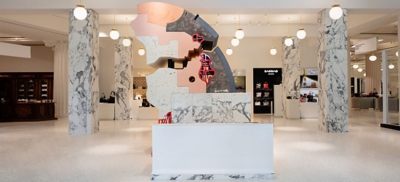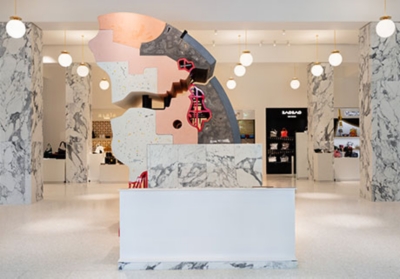 Self Discoveries: five things you won't want to miss at Selfridges this week
Welcome to Self Discoveries – a weekly round-up of our favourite happenings across Selfridges' four stores. Among this week's must-sees are our extraordinary new David Chipperfield-designed entrance at Selfridges London, featuring Holly Hendry's Crossrail-inspired sculpture no less, and super-smooth liquid nitrogen ice cream in our Birmingham store.
Making an entrance – Selfridges London

Drumroll, please…the new Duke Street entrance to our London store has just opened its doors and you're cordially invited to step inside. Designed by renowned architect David Chipperfield, the façade provides a suitably grand entrance to our extraordinary Accessories Hall, while our new concierge desk can help you with anything you want to know about the store (or London, for that matter). And if you're feeling thirsty, you can fill up your water vessel at our new marble water fountain just outside. The fountain is part of our ongoing Project Ocean initiative to reduce the use of single-use plastics.

Digging it – Selfridges London
Chewing gum, false nails and fish tank rocks; these are just a few of the materials you'll spy if you visit Holly Hendry's new sculpture, Phyllis, standing four-metres tall in our newly opened Duke Street entrance at Selfridges London. The piece tells the story of Phyllis, a Crossrail digging machine so large that she effectively dug her own grave (fun fact: did you know all digging machines have female names?). The RCA graduate's piece is the first in a series of commissions as part of our new Art Block series which, in partnership with Yorkshire Sculpture Park, invites a new artist to take over the block every six months. We think you'll agree that Holly has kicked proceedings off with monumental force.
Royal blooms – Selfridges London
How does a princess to be choose a florist for her upcoming nuptials? On Google, like the rest of us (go, Meghan!). The story goes that Ms Markle was curled up on the couch trawling the internet when she came across Philippa Craddock (our very own resident florist at Selfridges London) and fell in love with her verdant blooms. Sources say white garden roses, peonies and foxgloves are in the line-up for Windsor Castle, so we suggest you head to Philippa Craddock's flower shop in the Foodhall to fill your home with seasonal blooms fit for a queen (well, Duchess in this case).
Ice, ice baby – Selfridges Birmingham
Silky-smooth ice cream made using, wait for it…liquid nitrogen – sounds very MasterChef, right? Well, now you can taste it for yourself at Selfridges Birmingham, with Nitrogenie's mouth-watering menu of made-to-order ice creams. As for the science bit? Well, the liquid nitrogen freezes the creamy mixture so quickly that ice crystals don't have time to form, giving the ice cream an unbelievably smooth texture, a bit like a frozen shake. Choose from their lavishly topped Lemon Meringue Pie, Nutella Cornucopia and Salted Caramel Honeycomb Crunch flavours (before we beat you to it!).
High brow – Selfridges Manchester Trafford
Good news Manchester beauty fans, the first phase of our shiny new Beauty Hall at Selfridges Manchester Trafford is now open. Along with new counters for Huda Beauty, NARS and MAC, Anastasia Beverly Hills is making its first-ever UK appearance (if you're not already acquainted, Anastasia is the woman credited with crafting the brows of Oprah, Cindy Crawford and Kim Kardashian, to name a few). Oh hello, dream brows.