Selfridges Birmingham presents
LIVE + LOUD
27–30 September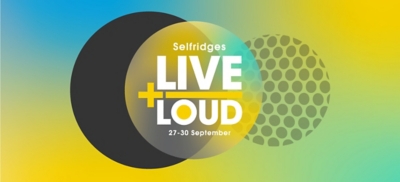 For this year's Live + Loud festival, we're celebrating 15 years since our spaceship-like store Selfridges Birmingham landed in this amazing city. Expect thrilling live performances from local artists, plus exclusive experiences with your favourite brands as we invite you to discover new in-store destinations and incredible events that are a real feast for the eyes.

Discover this year's exciting line-up below…
Head to the Main Stage to see local artists perform live.
When: Thursday 27 – Sunday 30 September, various times
Where: Mainstage on 1
Thursday 27 September
Birmingham Ormiston Academy Takeover, 5–7pm: Join us to see performances by Birmingham Ormiston Academy's pupils, including bands, singers and dancers.
Friday 28 September
Jordan Mackampa, 2–2.20pm: Local singer-songwriter Jordan Mackampa will be performing some of his soulful gospel-tinged harmonies.
Cariss Auburn, 2.25–2.45pm: Singer-songwriter Cariss Auburn will be performing some 80s funk, soul and jazz-inspired tunes.
Chagall, 4pm & 6pm: Using Mi.Mu (wireless data) gloves to perform electronic music with gestures, Chagall will create an audio-visual feast for the eyes (and ears).
Saturday 29 September
Birmingham Art Takeover, 12–2pm: Join us for a panel talk with local artists, from street artists to aspiring art students, to discuss Birmingham's ever-evolving art scene.
Aiyana K, 3.40–3.55pm: Local pop singer-songwriter Aiyana K will perform some of her latest (and most-danceable) hits.
Sideman, 4–6pm: Join Sideman, BBC Radio 1 and 1Xtra DJ, as he hosts the artists and activities.
Flawless, 4–4.15pm: Coming together to perform an upbeat and entertaining flashdance, Flawless's eight dancers will get you in the party mood.
Tehillah Henry, 4.20–4.40pm: Join singer-songwriter Tehillah Henry for some of her best soulful songs.
Call me Def, 4.45–5.05pm: Lyricist and singer-songwriter Call me Def will be performing his rock, grime and hip hop-inspired tracks.
MC IC, 5.10–5.30pm: Join us for the ultimate battle of the bands, hosted by BBC Radio 1 and 1Xtra DJ Sideman, as rappers from The Beatfreeks challenge each other.
Sunday 30 September
SPARK!, 12pm, 2pm & 4pm: Roaming around the store before ending up on the Main Stage, SPARK! street theatre's mesmerising show involves high-impact drumming with kaleidoscopic lighting design.
Elle Chante, 1.30–2pm: Local musician Elle Chante will be performing some R&B and soul songs.
Rosie Kay Dance Group: MK ULTRA Performance, 3–3.20pm: Expect bright lights, superhuman dancing and pounding music from this brilliant dance group.
Thursday 27 – Sunday 30 September, various times
Jess Monroe DJ sets: Spinning the decks between activities, local DJ Jess Monroe will be playing all the best R&B and House tunes.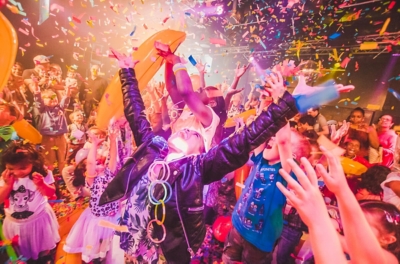 When: Sunday 30 September, 10–11am
Where: Main Stage on 1
Rave-A-Roo is stepping out of its legendary Ministry of Sound home in London to present the ultimate family party, hosted by Carl Go! And Jade Go! from Go!Go!Go! Electro. Join us to show off your best dance moves before an extraordinary confetti finale.
When: Saturday 29 September, 12–6pm
Where: Beauty on 3
Keen to get your next fresh fix of beauty? Then head down to our big beauty party, hosted by Charlotte De Carle (a multi-talented model, DJ and presenter). During this fun-filled extravaganza, enjoy a live DJ set, drinks and exclusive beauty experiences from 2–4pm. Plus, all your favourite brands are offering amazing beauty services which you can book to enjoy on the day. See you there, beauty lovers!
To book your beauty treatments, please speak to a team member in store or call 0121 600 6943.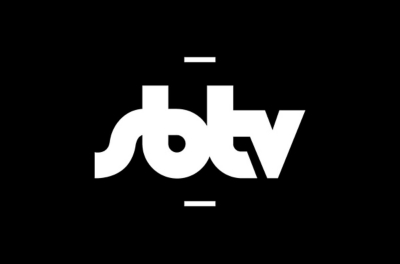 When: Thursday 27 – Sunday 30 September, various times
Where: Mens on 2
Online broadcasters SBTV will be hosting their own TV show, live at Selfridges Birmingham. You can also watch the live stream during our store opening hours here.
Breakfast show
Hosted by local DJ, Smooth Fuego and SBTV host Aaron Roach Bridgeman, the breakfast show features guest speakers with a spin on the day's current affairs, plus the latest music releases and new online trends.
Music show
Host Aaron Roach Bridgeman will be joined by various local musicians to discuss the Brummie music scene with live performances and interviews.
Fashion and chat show
Hosted by Muna Rumi, Aaron Roach Bridgeman & DJ Smooth Fuego, this show will focus on beauty and fashion (expect fancy-dress themes and all the behind-the-scenes gossip).
Game show
The hosts will face off one another, playing various (hilarious) games – expect Karaoke, Truth or Dare, Forehead Detective and Selfridges Monopoly.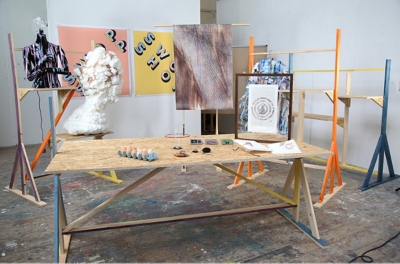 Birmingham School of Art presents: SWOP SHOP

When: Friday 21 – Sunday 30 September
Where: Luggage on 1
Birmingham School of Art is bringing their Tate Liverpool workshop concept to Selfridges Birmingham. This experimental project presents a platform where no money changes hands but rather objects, skills and ideas. Come along to explore the concept, which will culminate on Live + Loud's final day with the artists' 'swapping' their creations with visitors for what they believe its value is.