Le Chalet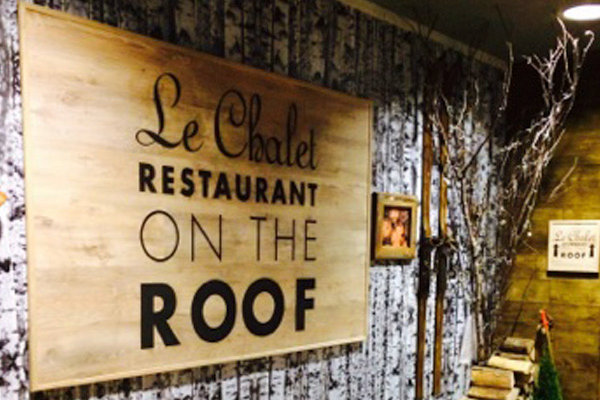 Enjoy the perfect après-shop or festive get-together high above the city with our winter rooftop restaurant. Enter a candle-lit alpine chalet and take your pick from a delicious menu including rotisserie meats, mulled wine and festive classics.
Book your table by calling 0207 318 3287.
Le Chalet menu (PDF, 715kb)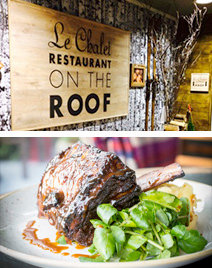 Aubaine
On 2
Fashionable French bistro Aubaine serves a delectable menu of classic French dishes in a beautiful environment beside the Shoe Galleries. Breakfast, lunch and dinner are served alongside an all-day dining menu. Table service.
Please call 0207 318 3738 to speak to the team.
Eat
On G
EAT is the perfect place to re-charge and refresh. The menu includes everything from freshly made sandwiches, salads and soups to luxury pies and patisseries. Eat in or take away.
Please call 0207 318 3549 to speak to the team.
Harry Gordon's Bar
On LG
Head to our bar in The Wine Shop, named after our founder Harry Gordon Selfridge, to enjoy delicious cocktails made with a dash of British wit, fine wines, craft beers and champagne selected by our expert sommelier. Enjoy your chosen tipple with delicious seasonal salads, charcuterie and cheese. Bar and table service.
Please call 0207 318 3722 to speak to the team.
Hix Restaurant Champagne & Caviar Bar
On G
Celebrated chef, restaurateur and food writer Mark Hix is known for his original take on seasonal dishes. Follow the spiral staircase up from Accessories for breakfast, lunch, dinner, children's menus and afternoon tea. HIX's extensive caviar menu is also ready for you to explore with a glass of champagne in hand. Bar and table service.
Please call 0207 499 5400 to book a table.
Opening hours:
Monday - Saturday: 9.30am - store closing
Sunday: 11.30am - store closing
Lola's Cupcakes
On G
Lola's Cupcakes are crafted in Primrose Hill by a team of baking experts using only the finest ingredients. Sit down and enjoy your favourite with a cup of coffee or select a bespoke box of flavours for someone special. Eat in or take away.
Please call 0207 318 3146 to speak to the team.
Sfilatino
On G
Sfilatino is the Italian answer to the French baguette.
With less crumb, more taste, and an unforgettable crunch, Sfilatino will take your tastebuds straight to Italy, with a delicious and delightful sandwich unlike any others.
Snog
On G
To celebrate the start of summer, we are delighted to welcome Snog Frozen Yogurt to the Selfridges Oxford Street Foodhall.
At just 140 calories for a little original Snog, and completely fat free, this organic frozen yogurt is the perfect summer treat.
Snog offers a variety of mouth-watering toppings from strawberries and passion fruit to granola and gluten-free chocolate brownies so you can make your Snog as healthy or indulgent as you fancy.
Starbucks
On 4
Whether you're looking for a quick lunch or afternoon treat, sit down, relax and enjoy a catch up in Starbucks' cosy surroundings. Self service.
Please call 0207 318 3174 to speak to the team.
The Brass Rail
On G
This is salt beef heaven. Saj, our main carver, has been carving beef in the Selfridges Foodhall for over 40 years, and it's his expertise that ensures each and every bite is as succulent as the last. Self service or take away.
Please call 0207 318 3115 to speak to the team.
The Corner Restaurant & Champagne Bar
On 2
Located in the Womens Designer Galleries, The Corner serves an all-day menu of seasonal European dishes full of flavour and style. With an elegant art deco interior and views as beautiful as the tastes on your plate, everything's set for a wonderful dining experience. Bar and table service.
Enjoy a quintessentially British blend of traditions and eccentricities with the Mr Selfridge Afternoon Tea.
Join us in The Corner for a series of dinners cooked by Michelin-starred chefs as part of our culinary campaign, Meet The Makers. Book your place now.
To book a table, call Corner Restaurant and Champagne Bar on 0207 318 3898.
Opening hours:
Monday - Saturday: 9.30am - store closing
Sunday: 11.30am - store closing
The Selfridges Kitchen
On 4
At The Selfridges Kitchen you'll find a world of exotic tastes in the heart of London. From scrumptious healthy salads to flavoursome curries, there's something for any time of day and for any palate.
Options include:
Chop'd (salads and juices)
Classics
Delicatessen
Desserts
The Creperie
Ekachai (Pan Asian)
Grill
Lebanese
Masala Express (Indian)
Rotisserie
Please call 0207 318 3156 to speak to the team.
TONKOTSU
On G
Tonkotsu, Soho's specialist ramen bar has opened its doors in the Foodhall at Selfridges Oxford Street, London.
Named after the lip-smacking, creamy ramen typical in Kyushu, Japan's southern-most island, Tonkotsu serves up a delicious selection of the Japanese dish - from an exclusive chilli chicken ramen to a miso variety made with Shiitake mushrooms for non-meat eaters.
Opening Hours: 11am - store closing
Yo! Sushi
On G
Take your seat at the conveyor belt and be inspired by YO! Sushi's vibrant flavours, from sushi to katsu curry and ramen dishes. As with all our restaurants, YO! Sushi only serves sustainable fish. Eat in or take away.
Please call 0207 318 3944 to speak to the team.