CARTIER Wonder Room
cartier
Cartier's luxurious creations are inspired by the same boldness and refinement that have characterised the French Maison since its foundation in 1847 by Louis-Francois Cartier in Paris. Its heirloom pieces are created by master craftsmen and carry the prestige of the brand's illustrious heritage and exceptional quality.
Discover Cartier's collection of iconic jewellery designs, timeless watches and finely crafted accessories, available to order online with our Click & Collect service in the Wonder Room at Selfridges London. The Maison's signature styles include Love, Trinity, Juste un Clou, Ballon de Cartier, Tank, Santos, Jeanne Toussaint and Louis Cartier.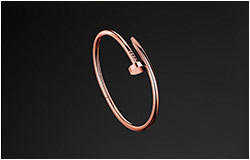 fine jewellery
women's watches
men's watches
women's accessories
men's accessories
fragrances
discover the latest creations
Watch the stories unfold as the Maison's latest inimitable creations are brought to life.
Cartier prides itself on providing excellent customer service. This includes contacting customers to offer after-sales care and share details about its brand and products. As such, when you order a Cartier product from us, your details will be passed onto Cartier so that it can provide these services to you. For more information on how Cartier may use your information, please see https://secure.www.cartier.co.uk/privacy-notice