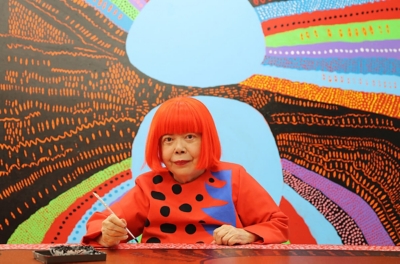 Over the course of the Japanese artist's seven-decade career, Yayoi Kusama has explored everything from painting and sculpture to fashion (cue her 2012 collaboration with Louis Vuitton) and product design. Known for her signature motifs including the polka dot, Kusama's artwork for the new Eastern ticket hall at Liverpool Street station, titled 'Infinite Accumulation', features metallic spheres - an evolution of her spot motif - linked and supported by undulating metal rods.
"With just one dot nothing can be achieved, but if you forget yourself and become part of your environment you will become one with eternity." Yayoi Kusama
In Yayoi Kusama's work for Selfridges, she fills the window with the linked metallic spheres, inviting us to think about ourselves as one of any number of 'dots' in the universe. She describes how each dot, unable to stand on its own, requires the presence of others, allowing us to visualise an ideal human society in which each 'dot' helps and supports the others.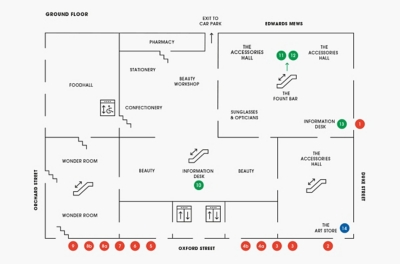 1 - Yayoi Kusama
2 - Spencer Finch
3 - Richard Wright
4a - Douglas Gordon
4b - Douglas Gordon
5 - Simon Pertion
6 - Chantal Joffe
7 - Michal Rovner
8a - Darren Almond
8b - Darren Almond
9 - Conrad Shawcross
10 - Eduardo Paolozzi
11 - Matthew Darbyshire
12 - Rebecca Ackroyd
13 - Art Block
14 - The Art Store